dddavids Hauntingly Good Recipes
Leave Your Comments Below




These recipe pages will be filled with old, vintage recipes.
I will be scouring the internet to find recipes that are 100+ years old.
It is fascinating to be able taste food that was made centuries ago.
So...for those of you who may not have the time to go looking for
recipes from a hundred or more years ago, you will now be able to
find them here! Are you ready?
These will be foods, and deserts that I have made in the Haunted Kitchen.
Who knows, maybe the spirits of cooks past are with me to help me through it.

More Vintage Recipes.



Banana Bread
Makes 1 loaf
Ingredients:
2 cups all-purpose flour
1 teaspoon baking soda
1/4 teaspoon salt
1/2 cup butter
3/4 cup brown sugar
2 eggs, beaten
2 1/3 cups mashed overripe bananas
Directions:
Preheat oven to 350 degrees F (175 degrees C).
Lightly grease a 9x5 inch loaf pan.
In a large bowl, combine flour, baking soda and salt.
In a separate bowl, cream together butter and brown sugar.
Stir in eggs and mashed bananas until well blended.
Stir banana mixture into flour mixture; stir just to moisten.
Pour batter into prepared loaf pan.
Bake in preheated oven for 60 to 65 minutes, until a toothpick
inserted into center of the loaf comes out clean.
Cool in pan for 10 minutes, then turn out onto a wire rack.
I also added:
1 cup of Walnuts, and
1 1/2 cups of Chocolate Chips.
So mine is Banana Bread with Chocolate Chips and Walnuts!



Banana Chocolate Chip Cookies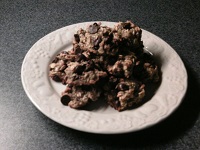 Ingredients:
4 ripe bananas
2 cups 100% whole grain old fashioned oats
1 cup dark chocolate chips
Instructions:
Mix the bananas & the oats together until all
the oats of moistened.
Stir in the dark chocolate chips.
Spoon out spoonfuls and roll into a ball.
Bake on 350 F for 18 - 20 minutes
These were very good, and even better if
you keep them refrigerated. Almost like little
Banana Breads.
Oatmeal Chocolate Cookie Bars
Ingredients:
Cookie:
1 cup brown sugar
1/2 cup butter, unsalted
1 large egg
1 tsp vanilla
1 1/4 cups flour
1 1/2 cups oatmeal, quick cooking
1 tsp baking soda
1/4 tsp salt
Topping:
14oz can Sweetened Condensed Milk
1 Tbsp Butter
6 oz Milk Chocolate
Instructions:
Cream brown sugar and butter together until
light and fluffy. Add egg and vanilla, and mix
until combined.In a separate bowl mix together
dry ingredients.
Slowly add in to wet ingredients and mix until
combined.
Press mixture into a 9×13 lined with parchment,
non-stick foil, or well prepped with baking spray.
Using a double boiler, or a pot with an inch of
water and another glass or metal bowl on top of it.
Simmer water underneath, and add condensed milk,
chocolate, and butter to top bowl.
Stir until melted and combined.
Pour chocolate mixture over bars in prepped pan.
Bake at 350 F for 12-18 minutes, or until a toothpick
comes out clean.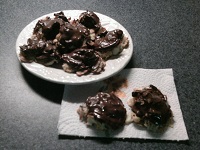 Corn Flake Macaroons
Ingredients:
2 Egg Whites
1 cup Sugar
1/4 teaspoon Salt
1/2 teaspoon Vanilla
1 Cup Coconut shredded
2 Cups Corn Flakes
1/2 Cup Almonds sliced
1/2 Cup Semi-Sweet Chocolate Chips
3 tablespoons Water
Instructions:
Preheat the oven to 375 F
Beat the egg whites until they form stiff peaks.
Gradually blend the sugar and salt into the egg whites.
Fold in the vanilla extract, coconut, corn flakes,
and almonds.
Scoop with a teaspoon onto a baking sheet lined with
parchment paper.
Bake until the sides and the tops of the cookies are
golden brown.
Boil 3 cups of water in a sauce pan.
Place the chocolate chips and 3 tablespoons of water
in a heatproof metal bowl over the saucepan.
Continue stirring the chips until melted.
Drizzle the chocolate over the cookies.

Old-Fashioned Butterscotch Bread
An old-fashioned butterscotch bread recipe made with
brown sugar, golden raisins, and buttermilk.
Makes 2 loaves. You may divide the recipe in half if
you only want one loaf of bread.
Ingredients:
2 eggs
3 Tablespoons melted butter
2 cups brown sugar, firmly packed
2 cups buttermilk
4 cups all purpose flour
1-1/2 teaspoon baking powder
1 teaspoon baking soda
1/2 teaspoon salt
1 cup golden raisins or chopped nuts (optional)
Instructions:
Preheat oven to 350 degrees F.
In a large mixing bowl, beat the 2 eggs with a fork.
Add in the brown sugar and melted butter.
Stir in the buttermilk and mix fully.
In a separate bowl, stir together the flour,
baking powder, baking soda and salt.
Add the wet ingredients into the dry and stir until well
mixed. This can also be done with an electric mixer.
Stir in raisins or nuts by hand.
Grease the bottoms only of (2) 9" x 5" x 3" loaf baking pans.
Divide the batter evenly between the two pans.
Bake at 350 degrees for 40-50 minutes until the bread starts
to pull away from the sides of the pan and it golden brown
on top. Check the center of the bread with a toothpick.
It should come out clean.
Let stand 10 minutes before removing from the pans.
Allow the bread to cool completely.





Eerily Good Breakfast Popovers
Popovers are a quick and easy bread recipe made with milk,
flour, eggs, and vegetable oil. Light, fluffy, airy, and
golden brown, load them with butter and serve them for
breakfast or brunch. The popover is an American version of
Yorkshire pudding and similar batter puddings made in England
since the 17th century, though it has evolved considerably.
Very interesting little things. I had never had them before,
and they turned out well. I think I will do them again.
This Recipe Makes 6 popovers
Ingredients:
1 cup flour
1 cup milk
2 eggs
1/2 teaspoon salt
1 Tablespoon vegetable oil
Instructions:
Preheat oven to 425 degrees F.
Spray the pan with non-stick cooking spray.
Mix all ingredients in a medium mixing bowl with a whisk.
Divide batter and ladle equal portions into each muffin cup.
Do not leave the batter sit! Bake immediately for best results.
Check for doneness in 25-30 minutes. Remove when smooth
and golden brown.
Once removed from the oven, loosen and tilt them slightly to
let the steam escape or they will sog out quickly.



For those of you in the States, or anywhere for that matter,
you may wish to try the following tasty treats for your Patriotic
Holidays. These are very old recipes that sure to please on
The 4th of July, Labor Day, or Memorial Day.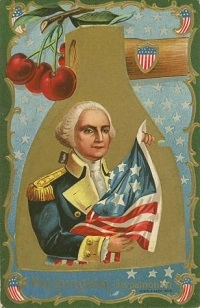 George Washington Cake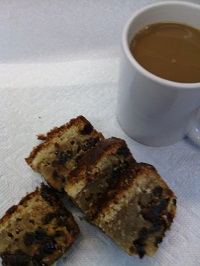 The George Washington cake is an early 19th century
creamed cake (a spicier variation of pound cake)
flavored with spices and frequently raisins and dried currants.

Though I think your favoriet dried fruits would be just as good.
Ingredients:
2 cups sifted cake flour, or 1 2/3 cups all-purpose flour
1 tsp baking powder
1/2 tsp ground cinnamon
1/2 tsp ground cloves
1/4 tsp ground nutmeg
1/2 tsp salt
1 cup unsalted butter (2 sticks)
1 1/3 cups sugar, or 2/3 cup sugar and 2/3 cup packed brown sugar
4 large eggs, lightly beaten
1/4 cup heavy cream or milk
2 tbsp brandy or sweet wine (such as Port)
2 tsp vanilla extract
1 1/2 cups raisins
1 1/2 cups dried currants
Instructions:
Preheat the oven to 325°F.
Sift together the flour, baking powder, spices, and salt.
In a large bowl, cream the butter, gradually add the sugar,
and beat until light and fluffy. Gradually add the egg mixture,
blending well. Add the cream, brandy, and vanilla.
Slowly add the flour mixture, continuing to blend.
Finally, stir in the raisins and currants.
Grease a 9- by 5-inch loaf pan, or Bundt pan, and line the
bottom and sides with parchment paper, and grease again.
Pour into the prepared pan, smoothing the top. Bake until
a tooth pick inserted in the center comes out clean, about
1 hour for a large loaf pan, or a tube pan.
I do think the next time I make it I will use dried cherries,
and pineapples. It just seems fitting.

100 Year Old Pound Cake Recipe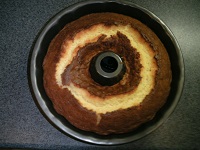 Ingredients:
3 cups of all purpose flour
1 teaspoon of baking powder
1/2 teaspoon of salt
1 1/2 cups (3 sticks) of butter
3 cups of granulated sugar
5 large eggs
1 cup of whole milk or half and half
2-1/2 teaspoons of vanilla extract
2-1/2 teaspoons of lemon extract
Instructions:
Preheat oven to 325 degrees F. Butter and flour or
prepare a bundt panand set aside. Whisk
together the flour, baking powder and salt in a bowl,
and set aside. In another bowl beat the butter and
margarine on medium speed until creamy. Add the sugar,
1/2 cup at a time and continue beating on medium until
mixture becomes fluffy.
Add eggs, one a time, blending each egg in completely
before adding the next.
Add the flour mixture slowly, and the milk into the creamed
butter, starting and ending with the flour, until all is fully
incorporated. Add the extracts and blend it in. Pour the batter
into the prepared pan and spread out the top evenly.
Bake at 325 degrees F for about 1 hour and 10 minutes, or
until a toothpick inserted into the center comes out clean.

Cherry Crumb Cake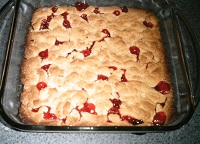 Ingredients:
3 Cups of Flour
1 Cup of Sugar
1 Cup of Oil
2 Tablespoons of Water
1 Egg
1/2 Teaspoon of Salt
3/4 pound of pitted Cherries, or you can use Cherry pie filling
1/4 Cup of chopped nuts (your choice)
Instructions:
Preheat oven to 350 degrees F
Put flour in a bowl. Add sugar and salt. Add water,
oil and egg;
Mix with pastry blender until mixture forms crumbs.
Cover bottom of a greased 9 x 13 inch pan with 1/2
of the crumb mixture.
Prepare filling by pitting the Cherries and spread them
(or the cherry filling) over the crumbs in the pan.
Place the other 1/2 of the crumb mixture over the cherries.
Bake at 350 F. for 50 to 60 minutes. Let cool.
This is a fine old, and easy to make recipe. I don't think you
will be disappointed. On the 3rd page of recipes you will find
one for German Krummeltorte...Apple Crumb Cake.



The Hearth
In historic and modern usage, a hearth is a brick or
stone-lined fireplace, with or without an oven, used
for heating and originally also used for cooking food.
For centuries, the hearth was such an integral part of a home.

dddavids Interesting Facts and Vintage Recipes:





Old German Honey Cookies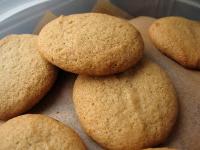 Ingredients:
1 cup white sugar
1 cup shortening
1 cup honey
2 eggs
1 tsp vanilla extract
1 tsp baking soda
4 cups all-purpose flour
1 tsp ground ginger

Instructions:
In a saucepan over low heat, melt together sugar, shortening and honey.
Let cool.
Mix the eggs, vanilla, baking soda and ginger. Gradually add to
cooled honey mixture.
Slowly add 4 cups of flour to mixture. Stir until well blended.
Drop by teaspoonfuls onto cookie sheets about 2 inches apart.
Bake at 350 degrees F.
until golden (about 12-15 minutes).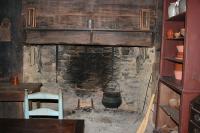 Cooking in the 1800's
A typical day on the farm began very early. Women rose and built the fire
based on the meals planned for that day. Families who could afford to
have detached kitchens (kitchens in buildings separate from the house)
did so for several reasons.
The kitchen often was hot, smoky, and smelly. For those who's families
did not have the resources for a separate kitchen, it was the hearth that
provided the center of home life and family activity. With no ovens or
electricity, women prepared meals on the hearths of brick fireplaces.
They used different types of fires and flames to prepare different types
of food. For example, a controllable fire was used to roast and toast,
while boiling and stewing required a smaller flame. To use all of the fire's
energy, families shoveled coals and ash underneath and onto the lids of
Dutch ovens. Standing on three legs and available in a wide array of sizes,
the cast-iron Dutch oven was one of the most important tools found on the
hearth. It was used to prepare several types of food and allowed cooking
from both the top and the bottom. Dutch ovens evolved into wood stoves,
common in homes of the later 1800s and early 1900s before most people
got electricity at home. Preparing meals was not just a matter of starting a
fire for cooking. Spices, such as nutmeg and cinnamon, and seasonings,
like salt and pepper, had to be ground up with mortars and pestles. Milk
had to be brought in from the family dairy cow and cream and butter made
from it. After someone brought in the milk, it usually sat out for about an hour.
The cream rose to the top, separating from the milk. Women placed this
cream into a butter churn and beat it until it hardened, first into whipped
cream and eventually into butter!
Every family member contributed to the production and preparation of meals.
Men and boys spent most of their time outdoors. Chores included working
crops in the fields, feeding larger livestock, and hunting. Diets included wild
game, such as deer and turkeys.
Women and girls worked mainly in the kitchen and fed smaller livestock.
Clearly, meal preparation two hundred years ago involved several more steps
than it does now.
Much like today, families usually ate three daily meals. The main meal in the
1800s, however, was not the large evening meal that is familiar to us today.
Rather, it was a meal called dinner, enjoyed in the early afternoon.
Supper was a smaller meal eaten in the evening.
A big difference between the way people eat today compared with long
ago is the work and time needed. For modern families, food and meals are
merely an after thought in the schedule.
Two hundred years ago, food and food preparation stood at the center of
the family's daily lifestyle.
Without the advances in technology that help us store, preserve, and prepare
food, men and women would spend much of their time getting meals ready to eat.


For the Witch in you, Magical Food Tips:
When preparing foods for specific magical purposes, cook with
purpose and care. Keep your goal in mind, love, money, protection,
health, fertility, strength, psychic awareness.
Always stir clockwise, clockwise motion is thought to be in harmony
with the apparent movement of the sun in the sky, and has been
linked with life, health and success.
Cut foods into shapes symbolic of your magical intention, such as
hearts for love a Pentagram for protection etc.
By contemplating the energy of love, money or protection, you can
bring magic into your kitchen each day.
Foods for Love:
For centuries witches have been using foods to create powerful
magic, and lovemagic is one of the most favored. The secret recipes
and secret spices thathave been used have always been a witches
most closely guarded secret.
Witches spend many hours carefully crafting their love magic and
using the secret ingredients containing the energy of love.
Try this out:
Full Moon Cornbread


Ingredients:
1 cup cornmeal
1 cup flour
(this could be all white flour, or half white, half whole wheat)
1 tablespoon baking powder
1/2 teaspoon salt
1/2 cup sugar, if desired (can be decreased or omitted)
1 cup milk
1 egg
1/4 cup oil
Instructions:
Preheat oven to 425 F. Grease a 9-inch round pan.
(it must be 9-inch, 8-inch is too small).
Combine cornmeal, flour, baking powder, salt, and sugar. In another
bowl, combine milk, egg, and oil. Add the liquids to the dry ingredients.
Mix quickly and pour into pan.
Bake 20-25 minutes, and you have a large pale yellow Moon Cake
for you to enjoy.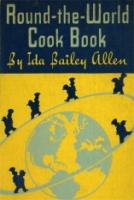 Butterscotch Pie
from the Round The World Cookbook-1934
1 pre baked pie crust
1 cup dark brown sugar
3 tablespoons butter
1 1/2 cups milk
1/2 tsp vanilla extract
2 eggs, separated
3 tbsp all purpose flour
2 tbsp powdered sugar
Heat a heavy fry pan over medium heat. Add the butter and brown
sugar and stir until the sugar is melted and a thick brown syrup is
formed.
Add one cup of the milk into the pan, and the vanilla.
Beat the egg yolks lightly in a medium sized bowl, and combine with
the remaining milk and the flour until smooth.
Add to the mixture in the fry pan and stir over medium heat until
thickened and creamy.
Pour into cooled pie crust. Beat remaining egg whites with powdered
sugar until stiff and spoon decoratively over pie.
Bake in preheated 325 degree oven until meringue is browned.

Other Interesting Links

Vintage Recipes
Old fashioned recipes like your grandmother and great-grandmother
used to make.

Ruth's Recipes
104 year old Ruth's scanned copies of the original recipes.

Vintage Recipe Cards

Lost Recipes Found

Vintage Recipes Page on facebook
A place to share those enduring, charming, and old recipes.

The History Of Brownies


A chef at Chicago's Palmer House Hotel
created the confection after Bertha Palmer
requested a dessert for ladies attending
the Chicago 1893 World Fair; it should be,
she said, smaller than a piece of cake,
though still retaining cake-like
characteristics and easily eaten from boxed
lunches. These first brownies featured an
apricot glaze and walnuts, and they are
still being made at the hotel according to
the original recipe.The earliest published
recipes for a brownie like those of today
appeared in the Home Cookery (1904, Laconia,
NH), Service Club Cook Book (1904, Chicago,
IL), The Boston Globe (April 2, 1905 p.34),
and the 1906 edition of The Boston Cooking
School Cook Book by Fannie Merritt Farmer.
These recipes produced a relatively mild
and cake-like brownie. The name "brownie"
first appeared in the 1896 version of the
cookbook, but this was in reference to
molasses cakes baked individually in tin
molds, not true brownies. A second recipe
appeared in 1907 in Lowney's Cook Book,
by Maria Willet Howard.
The recipe was named Bangor Brownies,
possibly because it was created by a
woman in Bangor, Maine.
Here is that 1907 Brownie Recipe
Ingredients:
1/4 cup butter
1 cup brown sugar
1 egg
3 squares chocolate (you can substitute 9
tablespoons of Cocoa Powder, and 3
additional tablespoons of butter if you like).
1/2 to to 3/4 cup flour
1 cup nut meats
1/4 teaspoon salt
Preparation:
Put all ingredients in bowl and beat until
well mixed. Spread evenly in buttered
baking pan. Bake and cut in strips.
Note:
These are not easy to spread into the pan,
but don't give up, they are worth it.
Remember it is only the 2nd recorded brownie
recipe. In addition, I would bake at 350 F. until
a toothpick comes out clean.
Myths about the Brownies creation:
There are three main myths about the
creation of the brownie. First, that a
chef accidentally added melted chocolate
to biscuit dough. Second, a cook forgot to
add flour to the batter. And third, and the
most popular belief, that a housewife did
not have baking powder and improvised with
this new treat. It was said that she was
baking for guests and decided to serve these
flattened cakes to them. All three myths
have gained popularity throughout the years.

An Old Fudge Brownie Recipe from Toll House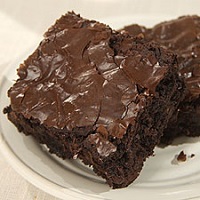 Ingredients:
3/4 cup unsifted flour
1/4 teaspoon baking soda
1/4 teaspoon salt
1/3 cup butter
3/4 cup sugar
2 tablespoons water
1 12 ounce package Nestle semi-sweet chocolate
chips, divided
1 teaspoon vanilla extract
2 eggs
1/2 cup nuts, chopped
Instructions
Preheat oven to 350 degrees.
In a small bowl, combine flour, baking soda,
and salt; set aside.
In a small saucepan, combine butter, sugar,
and water.
Bring just to a boil, then remove from heat.
Add 6 ounces (1 cup) chocolate morsels and
vanilla extract.
Stir until morsels melt and mixture is smooth.
Transfer to a large bowl.
Add eggs, one at a time, beating well after each
addition.
Gradually blend in flour mixture.
Stir in remaining 6 ounces (1 cup) of chocolate
chips and the nuts.
Spread into a greased 9-inch square baking pan.
Bake 30 to 35 minutes.
This is really a wonderful brownie!