dddavids Hauntingly Good
Vintage Easter Recipes

Don't Miss The Famous Countdown To Easter!

Leave Your Comments Below




Easter is traditionally celebrated on the first Sunday after the first full moon following the first day of spring in the Northern Hemisphere, which could be anytime between March 22 and April 25; whereas the Jewish Passover is observed in March or April, on the 15th day of the Hebrew month of Nisan.

Easter Glory Cake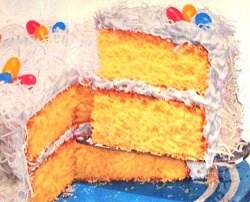 Ingredients:
2-1/2 cups cake flour, sifted
3 teaspoons baking powder
1 teaspoon salt
1 1/2 cups white sugar
1/2 cup shortening, softened
(Note: Butter, margarine, or lard may be substituted for the shortening, but use 1 cup minus 2 tablespoons milk.)
1 cup milk
1 teaspoon vanilla flavoring
2 eggs, unbeaten
Directions:
Combine sifted flour, baking powder, salt, and sugar in flour sifter. Stir shortening to soften in mixing bowl, sift in dry ingredients, add 3/4 cup of the milk, and the vanilla. Mix until all flour is dampened. Then beat 2 minutes with electric beater or 300 strokes by hand. Add eggs and remaining milk and beat 1 minute longer. (Beat vigorously by hand or at low speed of an electric beater. Count only actual beating time.) Scrape bowl often while beating to thoroughly mix ingredients.
Pour cake batter into two round 9-inch layer pans lined on their bottoms with paper. Bake in moderate oven (375°F) for 25 minutes, or until done. Cool in pans 5 minutes, then loosen and turn out on racks, remove paper, and turn layers right-side up to cool before frosting.
Easter Glory Cake Frosting
Ingredients:
2 egg whites
1 1/2 cups white sugar
Dash of salt
1/3 cup water
2 teaspoons light corn syrup
1 teaspoon vanilla flavoring
1-1/2 cups shredded white coconut (optional)
Assorted Jellybeans for decoration
Instructions:
Combine egg whites, sugar, salt, water, and light corn syrup. Beat until thoroughly mixed. Cook over rapidly boiling water, beating with electric beater 7 minutes, or to stiff peaks. Remove from heat, add vanilla, and beat 1 minute longer.
Spread frosting between layers and over sides and top of dessert cake. Then sprinkle with shredded coconut. Decorate with colorful jellybeans for the Easter dessert table!

History of the Easter Egg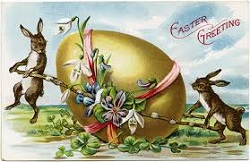 Easter Eggs:
Easter eggs, also called Paschal eggs, are decorated eggs that are often given to celebrate Easter or springtime. Easter eggs are common during the season of Eastertide (Easter season). The oldest tradition is to use dyed and painted chicken eggs, but a modern custom is to substitute chocolate eggs, or plastic eggs filled with confectionery such as jelly beans. Easter, though it is a religious holiday, the Easter eggs, are most likely linked to pagan traditions. The egg, an ancient symbol of new life, has been associated with pagan festivals celebrating spring. From a Christian perspective, Easter eggs are said to represent Jesus' emergence from the tomb and resurrection. Decorating eggs for Easter is a tradition that dates back to at least the 13th century, according to some sources. One explanation for this custom is that eggs were formerly a forbidden food during the Lenten season, so people would boil or roast them and paint and decorate them to mark the end of the period of penance and fasting, then eat them on Easter as a celebration.
Easter egg hunts and egg rolling are two popular egg-related traditions. In the U.S., the White House Easter Egg Roll, a race in which children push decorated, hard-boiled eggs across the White House lawn, is an annual event held the Monday after Easter. The first official White House egg roll occurred in 1878, when Rutherford B. Hayes was president. The event has no religious significance, although some people have considered egg rolling symbolic of the stone blocking Jesus' tomb being rolled away, leading to his resurrection.



Vintage Orange Layer Cake


Ingredients:
2-1/2 cups sifted cake flour
2 teaspoons baking powder
1/4 teaspoon salt
Grated rind of 1 lemon
Grated rind of 1 orange
2/3 cup butter or shortening
1 1/2 cups sugar
3 eggs unbeaten
2 tablespoons lemon juice
5 tablespoons orange juice
2 tablespoons water.
Instructions:
Sift flour once, measure, add baking powder and salt, and sift together three times. Add lemon and orange rind to butter, and cream thoroughly; add sugar gradually, and cream together until light and fluffy. Add eggs, one at a time, beating thoroughly after each addition. Add flour alternately with combined fruit juices and water, a small amount at a time. Beat after each addition until smooth.
Bake in two greased 9-inch layer pans in moderate oven (375°F) 20 minutes, or until done. Spread Whipped Orange Frosting (see icing recipe below) between layers and on top and sides of layer cake. Decorate with either orange or tangerine pieces.
Whipped Orange Frosting
Ingredients:
Juice and rind of 1 orange
2 tablespoons flour
1/2 cup sugar
2 egg yolks or 1 whole egg
1 cup whipping cream.
Directions:
Mix all ingredients together except cream, and cook over boiling water until thick. Allow to get cold. Whip cream stiff and carefully fold orange mixture into whipped cream.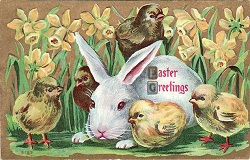 The Traditions of Easter:
Throughout the English-speaking world, many Easter traditions are similar with only minor differences. For example, Saturday is traditionally spent decorating Easter eggs and hunting for them with children on Sunday morning, by which time they have been mysteriously hidden all over the house and garden. Other traditions involve parents telling their children that eggs and other treats such as chocolate eggs or rabbits, and marshmallow chicks (Peeps), have been delivered by the Easter Bunny in an Easter basket, which children find waiting for them when they wake up. Many families observe the religious aspects of Easter by attending Sunday Mass or services in the morning and then participating in a feast or party in the afternoon. Some families have a traditional Sunday roast, often of either roast lamb or ham. Easter breads such as Simnel cake, a fruit cake with eleven marzipan balls representing the eleven faithful apostles, or nut breads such as potica are traditionally served. Hot cross buns, spiced buns with a cross on top, are traditionally associated with Good Friday, but today are often eaten well before and after. Hot cross buns
In Scotland, the north of England, and Northern Ireland, the traditions of rolling decorated eggs down steep hills and pace egging are still adhered to.
In New Zealand, the Auckland Easter Show is an annual tradition.
Hot Cross Buns


Ingredients:
1 cup (240 ml) milk
1 package (1/4 oz.) (7 grams) active dry yeast
1/2 teaspoon granulated white sugar
3 1/2 - 4 cups (455 - 520 grams) all purpose flour
1/4 cup (55 grams) light brown sugar
1 teaspoon ground cinnamon
1/4 teaspoon ground cloves
1/4 teaspoon ground allspice
1/4 teaspoon ground nutmeg
1/2 teaspoon salt
5 tablespoons (70 grams) unsalted butter, melted
1 large egg, lightly beaten
1/3 cup (80 ml) candied fruit and peel mix
1/3 cup (80 ml) currants (or raisins)
Instructions:
In a small saucepan, or in the microwave, heat the milk until lukewarm (about 100 degrees F or 38 degrees C). Add the yeast and 1/2 teaspoon sugar and stir to combine. Set aside for about 10 minutes or until the yeast is foamy.
In the bowl of your electric mixer, with the paddle attachment, combine the flour, sugar, spices, and salt. Once the yeast is foamy, gradually add to the flour mixture and beat until the dry ingredients are moistened. Add the melted butter and egg and beat until incorporated. With the mixer on medium low speed, with the dough hook, gradually add the candied and dried fruit and continue to knead the dough until it is silky smooth and elastic. Add more flour if necessary.
Place the dough in a lightly greased bowl, turning the dough once, so the top is lightly greased. Cover with plastic wrap and place in a warm spot to rise until it has almost doubled in size (about 1 1/2 - 2 hours).
When the dough has doubled in size, gently punch it down to release the air, and divide into 12 equal pieces. Form each piece into a small round ball and place on a parchment lined baking sheet (Place three buns to a row, four rows altogether. They should be spaced so they have enough room to double in size.) Make an egg wash of one beaten egg with 1 tablespoon milk, and brush the tops of the buns with the wash. Lightly spray a piece of plastic wrap with a nonstick cooking spray, and place lightly over the buns. Place in a warm spot until almost doubled in size (about 60 minutes).
Preheat oven to 400 degrees F (205 degrees C). Brush the tops of the buns with the egg wash, and with clean kitchen shears (or a a sharp, lightly greased knife), cut a 'cross' in the top of each bun. Place the baking sheet in the preheated oven and bake for about 15 minutes, or until the buns are nicely browned and a toothpick inserted in the middle comes out clean. Place on a wire rack to cool completely before glazing.
Glaze:
1/2 cup (60 grams) confectioners (powdered or icing) sugar
1 tablespoon milk or cream
Combine the confectioners sugar and milk and mix until smooth. Place the glaze in a paper cone or a small plastic bag. Cut the end of the cone or bag and pipe a 'cross' on the top of each bun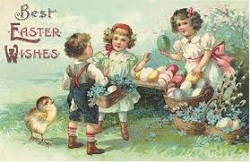 Easter in Cyprus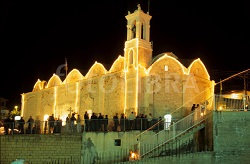 As well as the common painted easter egg bump, in Cyprus it is customary for people to light great fires (Greek: λαμπρατζια) in schools or church yards. The fires are made up of scrap wood, gathered usually by over-enthusiastic young boys which scour their neighborhoods for them, in order to make their fire as great as it can be (and bigger than the neighboring one). More than often this competition leads to fights happening over scraps of wood and the police or fire department being called to put out the fires that have gone out of control. It is customary for a small doll representing Judas Iscariot to be burnt.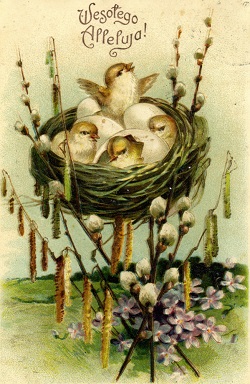 What would celebrations be without the "Deviled Egg"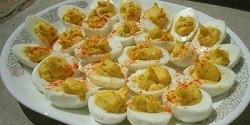 The History of Deviled Eggs
Serving deviled eggs at picnics and celebrations may have been fashionable in 1940's America, but deviled eggs did not originate in the United States. Although they weren't prepared the same way, the roots of modern-day deviled eggs can be traced back to ancient Rome, where eggs were boiled, seasoned with spicy sauces and then typically served at the beginning of a meal, as a first course known as gustatio, for wealthy patricians. Serving eggs while entertaining was so common that the Romans had a saying, "ab ova usque ad mala", literally from eggs to apples, or from the beginning of a meal to the end.
Sometime in the 13th century, stuffed eggs began to appear in what is now Spain. An anonymous cookbook from this time period instructs the reader to pound boiled egg yolks with cilantro, onion juice, pepper and coriander and then beat them with murri (a sauce made of fermented barley or fish), oil and salt. After stuffing the mixture into the hollowed egg whites, the two halves were then fastened together with a small stick and peppered.
By the 15th century these stuffed eggs had made their way across much of Europe. Medieval cookbooks contain recipes for boiled eggs that were often filled with raisins, cheese and herbs such as marjoram, parsley and mint and then fried in oil and either topped with a sauce of cinnamon, ginger, cloves and raisins with verjuice (a tart juice made from unripe fruits) or powdered with sugar and served hot. In the United States, stuffed eggs began making an appearance in cookbooks by the mid-19th century.
The first known printed mention of 'devil' as a culinary term appeared in Great Britain in 1786, in reference to dishes including hot ingredients or those that were highly seasoned and broiled or fried. By 1800, deviling became a verb to describe the process of making food spicy. But in some parts of the world, the popular egg hors d'oeuvres are referred to as "mimosa eggs," "stuffed eggs," "dressed eggs" or "salad eggs", specially when served at church functions, so as to avoid any association with Satan.
A recipe from Fannie Farmer's 1896 cookbook titled "Boston Cooking-School Cookbook" was one of the earliest to suggest the use of mayonnaise as a binder for the filling. However, despite the fact that mayonnaise began to be distributed commercially in the United States in 1907, it was not commonly featured in deviled egg recipes until the 1940s.



More Great and Vintage Recipes

dddavids Recipes Page 1

dddavids Recipes Page 2

dddavids Recipes Page 3

Old Fall Recipes

dddavids Lower Calorie Recipes

dddavids Old Christmas Recipes

dddavids Old ValentinesDay Recipes



dddavids Interesting Facts and Recipes: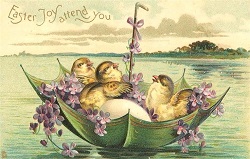 Renaissance Tansie Recipe:
Renaissance Tansie recipes were quite common during the Renaissance Era and were also popular during earlier medieval times. Tansies are an ancient custard-like pancake dish that incorporates rich cream and eggs and is sometimes thickened with dry bread crumbs.
Apple slices were often added to the tansie batter along with lemon juice, but it could also contain other types of fruit, such as thin slices of lemon, or even edible flower blossoms. Spinach juice was traditionally used to color the tansie batter green.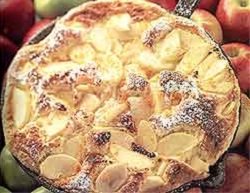 To make an Apple Tansie
Take a Quart of Cream, one Manchet grated, the yolks of ten Eggs, and four Whites, a little Salt, some Sugar, and a little Spice, then cut your Apples in round thin slices, and lay them into your Frying-Pan in order, your Batter being hot, when your Apples are fried, pour in your Butter, and fry it on the one side, then turn it on a Pie-Plate and slide it into the Pan again, and fry it, then put it on a Pie-Plate, and squeeze the Juice of a Limon over it, and strew on fine Sugar, and serve it to the Table.



Coconut Rolled Chocolate Easter Eggs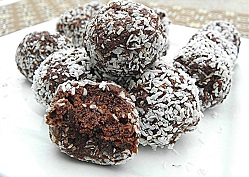 Ingredients:
2 egg whites (pasteurized)
22 marshmallows, cut fine (or 2 cups miniature marshmallows)
2 ounces unsweetened chocolate, melted
1/3 teaspoon cream of tartar
1 cup sifted confectioners' sugar
1 cup shredded coconut
Instructions:
Beat egg whites until they are stiff and stand up in peaks. Add marshmallows, melted chocolate, cream of tartar and sugar, and mix together well.
Shape chocolate mixture into small egg shapes. Roll in shredded coconut. Chill in refrigerator until firm before serving. Makes about 2 dozen small eggs, depending on the size you make them.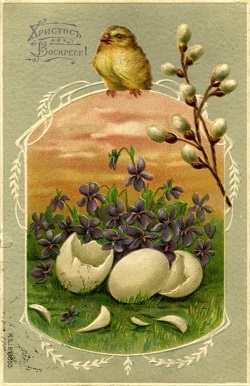 Easter Egg Tradition
Eggs have been associated with the Christian festival of Easter, which celebrates the death and resurrection of Christ, since the early days of the church. However, Christian customs connected with Easter eggs are to some extent adaptations of ancient pagan practices related to spring rites.
The egg has long been a symbol of 'fertility', 'rebirth' and 'the beginning'. In Egyptian mythology, the phoenix burns its nest to be reborn later from the egg that is left; Hindu scriptures relate that the world developed from an egg.
With the rise of Christianity in Western Europe, the church adapted many pagan customs and the egg, as a symbol of new life, came to represent the Resurrection. Some Christians regarded the egg as a symbol for the stone being rolled from the sepulchre.
Eggs as an Easter Gift
The earliest Easter eggs were hen or duck eggs decorated at home in bright colours with vegetable dye and charcoal. Orthodox Christians and many cultures continue to dye Easter eggs, often decorating them with flowers.
The 17th and 18th centuries saw the manufacture of egg-shaped toys, which were given to children at Easter. The Victorians had cardboard, 'plush' and satin covered eggs filled with Easter gifts and chocolates. The ultimate egg-shaped Easter gifts must have been the fabulous jewelled creations of Carl Fabergé made during the 19th century for the Russian Czar and Czarina, now precious museum pieces.
Chocolate Easter eggs were first made in Europe in the early 19th century, with France and Germany taking the lead in this new artistic confectionery. Some early eggs were solid, as the technique for mass-producing moulded chocolate had not been devised. The production of the first hollow chocolate eggs must have been painstaking, as the moulds were lined with paste chocolate one at a time.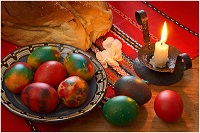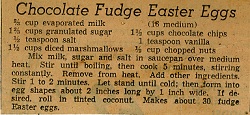 Chocolate Fudge Easter Eggs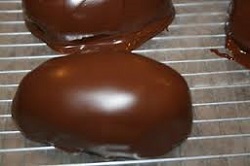 Ingredients:
2/3 cup undiluted evaporated milk
1 2/3 cups granulated sugar
1/2 teaspoon salt
1 1/2 cups diced marshmallows (16 medium sized)
1 1/2 cups chocolate chips (about 9 oz)
1 teaspoon vanilla
1/2 cup chopped nuts
Instructions:
Mix evaporated milk, sugar, and salt in saucepan over medium heat. Stir until boiling, then cook 5 minutes, stirring constantly. Remove from heat. Add other ingredients. Stir 1 to 2 minutes, or until marshmallows melt. Let stand until cold; then form into egg shapes about 2 inches long x 1 inch wide. Then decorate as you like!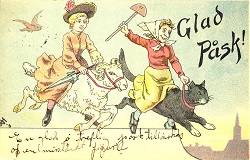 For the Witch at Easter:
In Sweden, the Easter week, from Palm Sunday to Easter Sunday, is the time of year associated with witches. That witches were especially active and their black magic especially powerful during this week. On Thursday they were thought to fly off on brooms to consort with the devil at some place called "balakula", returning the following Saturday.
Much like the North American Halloween tradition, children go door to door in costume, mostly witches, begging for treats, which are placed in the copper witches kettle they carry. This usually takes place on the Saturday before Easter, Easter Eve, but in some regions of Sweden it takes place on 'Pink Thursday', before Good Friday.
Children dressing as witches for Easter in Sweden, give a clear indication that the Swedish Easter Holiday Påsk origins predate those of Christianity. Where ancient folklore alleges that witches flew off on broomsticks to dance with the devil.
This tradition of children dressed as Easter witches dates to the early 1800s in both Sweden and Finland. But the association between Easter and witches began much earlier. In a Swedish church there exists a painting dated 1480 that portrays three Easter witches holding drinking horns out to be filled by the Devil serving a magical brew. It was commonly held that on Pink Thursday (Maundy Thursday) witches (haxor) flew away on their brooms to rendezvous with the Devil on a secret mountain, the Brocken, that served as their destination. At this Sabbat they would feast and dance to the singing of magpies/crows, flying back just in time to arrive for church on Sunday morning, where it was believed that their secret identity as pagan witches might be revealed, lest their prayers come out backwards.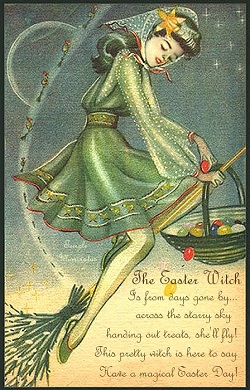 Vintage Easter Links:
Vintage Easter Decorations
29 Easy Easter Crafts
Spring into Easter Crafts with Vintage Images of Easter Past!
Easter Table Crafts and Favors from Martha
One-of-a-kind, Handmade Victorian Easter Ornaments
Truly Amazing Vintage Easter Decor
Very Old Easter Cartoons/Movies
Funny Little Bunnies (1934)
Here Comes Peter Cottontail
The Easter Bunny is Comin to Town (1977)
The Great EAaster Egg HUunt
The Shroud of Christ
Pilate: The Man Who Killed Christ
Ukrainian Easter Traditions, Martha
Ukrainian Easter Eggs
The History of Easter
1950 Columbus Boys Choir Easter Special

We are told to let our light shine, and if it does, we won't need to tell anybody it does. Lighthouses don't fire cannons to call attention to their shining- they just shine.
Dwight L. Moody


Easter Bunny Cookie


Ingredients:
1 egg
3 cups all-purpose flour
1/2 cup molasses
1/2 cup sugar
1 1/2 teaspoons ground ginger
1/2 teaspoon ground cinnamon
1/2 teaspoon ground cloves
1 1/2 teaspoons cider vinegar
1/2 cup vegetable shortening
2 teaspoons baking soda
1/4 teaspoon salt
Instructions:
Sift the flour, baking soda, ginger, cinnamon, cloves, and salt onto a large piece of waxed paper. Blend the egg with sugar and shortening in a bowl until fluffy. Beat in the vinegar and molasses, then carefully roll up the wax paper and stir in the flour mixture until it's smooth.
Knead the resulting dough into a ball, then wrap and chill for a few hours. Once the dough has cooled long enough, you can preheat the oven to 375°F (190°C).
Roll out the dough onto a floured wooden surface until it's about 1/8 inch thick. Then use a bunny-shaped cookie cutter to shape cookies to go into the oven.
Bake the cookies for about 5 minutes and remove from the oven. Allow to cool completely before serving.

Chocolate Caprices


Ingredients:
1 package chocolate chips (6 ounces)
3/4 cup sweetened condensed milk
1 cup finely crushed graham wafers
1/2 cup raisins
1/4 cup chopped nuts
1/2 teaspoon vanilla
Instructions:
Heat chocolate chips in a pot over hot water until partly melted. Remove from heat and stir rapidly until entirely melted. Add remaining ingredients. Mix thoroughly. Drop from teaspoon on waxed paper. Cool until firm. Makes about 3 dozen.

Old Fashioned Butter Cookies

Ingredients
1 cup butter
3/4 cup sugar
1 egg
2 TBSP. milk
1/2 teasp. vanilla
3 cups sifted flour
1 teasp. baking powder
1/2 teasp. salt
You can also add your favorite
addition, like M&M's, nuts, or
top with a Pecan half.
Instructions:
Cream butter and sugar
Stir in egg, milk, and vanilla.
In seperate bowl, mix together
the flour, baking powder and salt
add slowly to the butter mixture.
Mix well. Now, depending on what
you wish to do, you can either spoon
(teaspoonful) onto a cookie sheet or,
Chill: 2 to 4 hours. Remove, and
divide dough into 1/3's first.
Flour surface and roll out dough
to 1/8 to 1/4 inch thick. Keep the
other 2 thirds in the refrigerator.
Cut into circles. Place on an
ungreased cookie sheet.
Bake at 375 to 400' F for 5 - 8 mins.
until very lightly brown.


One for the Irish!
Irish Ginger Snap Cookies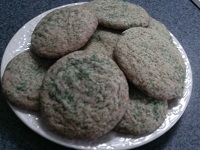 Ingredients:
3/3cup butter, softened
1 cup white sugar
1 egg, room temperature
2 cups all-purpose flour
1/2 tsp. baking soda
1/4 tsp. salt
1 1/2 tsp. ground ginger
1/2 tsp. ground cloves
1 tsp. ground cinnamon
Sugar or colored sugar crystals to coat cookies.
Instructions:
Preheat oven to 350 degrees. Line 2 large baking sheets with parchment paper. In large mixing bowl, or stand mixer, cream together butter and sugar. Add egg and beat until fluffy. In separate bowl whisk together all dry ingredients. Slowly add dry ingredients to butter mixture until well combined and dough is formed.
Scoop 1 tablespoon of dough at a time and roll into 1 inch balls. Coat dough balls in sugar and place on cookie sheet. Repeat until all dough is gone. Space cookies about 2 inches apart.
Bake for 5-6 minutes. Cool on cookie sheet for 3-4 minutes then transfer to baking rack. Store in an airtight container once completely cool.