dddavids Hauntingly Good
Vintage Christmas Recipes

Don't Miss The Famous Countdown To Christmas!

Leave Your Comments Below




For most of us the thought of Christmas invokes
wondrous memories of anticipation, excitement
hopes and dreams. On Christmas Eve anything was
possible, and that was the best part of all. For you
may not have always gotten what you had wished for.
It was the very idea of what might be that fueled those
most favorite memories of the past. Christmas Eve was
always magical! The holidays would not be complete
without these truly old fashion Christmas recipes.
Here below you will just a small part of those favorite
memories of Christmas in these...some of the very
oldest, and most special cakes and cookies of the
Christmas Season.

Buche de Noel, Yule Log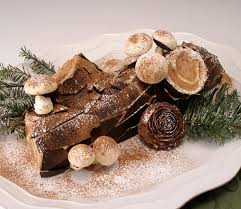 Buche de Noel is one of many traditional
cakes baked at Christmas. It is of French
origin. The name of this recipe translates
as "Christmas log," referring to the familar
traditional Yule log burned centuries past.
The ingedients suggest the cake is most
likely a 19th century creation. That's when
thinly rolled sponge cakes filled with jam or
cream and covered with buttercream icing
first begin to show up in European cook books.
Marzipan and meringue, typically employed for
decorative purposes, date to the Medieval Ages
and the 17th century.
In France where the buche de Noel, a roll of
light sponge cake, is covered in chocolate or
coffee buttercream textured to resemble bark.
The conceit is carried further by mounding the
cream over small pieces of cake stuck to the
main roll, to represent trimmed branches. The
ends of the roll and the cut faces of the
branches are finished with vanilla cream,
imitating pale newly cut wood, and the whole is
decorated with leaves made from icing, or meringue.
Ingredients:
Cake:
3 eggs
1 cup granulated sugar
1/3 cup water
1 teaspoon vanilla
3/4 cup all purpose flour
1 teaspoon baking powder
1/4 teaspoon salt
Filling:
1 cup whipping cream
2 tablespoons granulated sugar
1 1/2 teaspoons instant coffee granules or crystals
Chocolate Buttercream Frosting
1/3 cup unsweetened baking cocoa
1/3 cup butter or margarine, softened
2 cups powdered sugar
1 1/2 teaspoons vanilla
1 to 2 tablespoons hot water
Garnish:
1/2 cup chopped green pistachio nuts
Directions:
Preheat oven to 375°F.
Line 15x10x1-inch pan with foil or waxed
paper; grease with shortening or cooking
spray. In small bowl, beat eggs with electric
mixer on high speed about 5 minutes or until
thick and lemon colored. Pour eggs into large
bowl; gradually beat in 1 cup granulated sugar.
Beat in 1/3 cup water and the vanilla on low
speed. Gradually add flour, baking powder
and salt, beating just until batter is smooth.
Pour into pan, spreading batter to corners.
Bake 12 to 15 minutes or until toothpick
inserted in center comes out clean. Loosen
cake from edges of pan; invert onto towel
sprinkled with powdered sugar. Carefully
remove foil. Trim off stiff edges of cake if
necessary. While hot, carefully roll cake and
towel from narrow end. Cool on cooling rack for
30 minutes.
In chilled bowl, beat all filling ingredients on high
speed until stiff. Unroll cake; remove towel.
Spread filling over cake. Roll up cake.
In medium bowl, beat cocoa and butter on low
speed until thoroughly mixed. Beat in powdered
sugar until mixed. Beat in vanilla and enough of
the hot water until frosting is smooth and spreadable.
For tree stump, cut off a 2-inch diagonal slice from
one end of cake. Attach stump to one long side
using 1 tablespoon frosting. Frost cake with
remaining frosting. With tines of fork, make strokes
in frosting to look like tree bark. Garnish with nuts.

Christmas Cookie History


A sampler of Christmas cookie recipes
from American cookbooks:
1796
"Christmas Cookey
To three pound of flour, sprinkle a tea cup of fine
powdered coriander seed, rub in one pound of
butter, and one and a half pound sugar, dissolve
one tea spoonful of pearlash (a rising agent) in a
tea cup of milk, kneed all together well, roll three
quarters of an inch thick, and cut or stamp into
shape and slice you please, bake slowly fifteen
or twenty minutes; tho' hard and dry at first, if put
in an earthen pot, and dry cellar, or damp room,
they will be finer, softer and better when six months
old."
American Cookery, Amelia Simmons, 2nd edition
(Albany:1796)

1845
Christmas Cookies
"Take one pound and a half of flour, three quarters
of a pound of sugar, half a pound of butter, half a
cup of milk, and two spoonfuls of caraway seeds;
melt the butter before you put it in. It is rather
difficult to knead, but it can be done. Roll it out and
cut it in hearts and diamonds, and bake it on
buttered tins."
New England Economical Housekeeper and Family
Receipt Book, Mrs. E. A. Howland
(E.P. Walton:Montpelier) 1845



1963 "Merry Christmas Cookies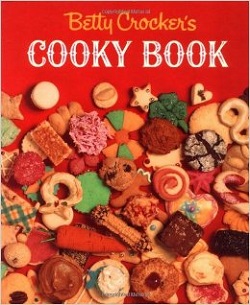 Ingredients:
1/3 cup shortening
1/3 cup sugar
1 egg
2/3 cup honey
1 tsp. lemon flavoring
2 3/4 cups Gold Medal Flour
1 tsp. soda
1 tsp. salt
Instructions:
Mix shortening, sugar, egg, honey, and flavoring
thoroughly. Measure flour by dipping method or
by sifting. Stir together flour, soda, salt; blend in.
Chill dough. Heat oven to 375 degrees F.
Roll dough out 1/4" thick. Cut into desired shapes.
Place 1" apart on lightly greased baking sheet.
Bake 8 to 10 min., or until no imprint remains when
touched lightly. When cool, ice and decorate if
desired. makes about 5 doz. 2 1/2" cookies.
Betty Crocker's Cooky Book, General Mills, 1963

Classic Rolled Sugar Cookies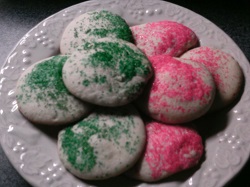 This is often the first rolled cookie taught to
children. Recipes from the early 1800's are
similar in that none of them use baking powder.
Ingredients:
3 3/4 cups all purpose flour
1/2 teaspoon salt
1 1/2 cups (3 sticks) unsalted butter, at room temperature, cut into tablespoon size pieces
1 1/2 cup sugar
1 1/2 teaspoon vanilla extract
3 eggs
For decorating:
Colored sugars and regular sugar
Directions:
Whisk flour and salt together in a small bowl
and set aside.
In separate bowl cream butter and sugar until
light and fluffy, add vanilla extract.
Add eggs one at a time, beating well after each
one.
Put in 1/3 of the flour mixture and blend. Gradually
add remaining flour, mixing just until blended well.
Form into two very flat discs, wrap in plastic wrap
and refrigerate at least 2 hours or until firm enough
to roll.
Preheat oven to 350 degrees. Line two cookie sheet
pans with parchment paper.
Remove one disc from refrigerator and roll out to
1/4-inch thickness on floured surface. Cut out cookies
with your shapes of choice. Place cookies on to prepared
pans placing 2-inches apart. Decorate with colored
sugars or regular sugar anyway you would like.
Bake for about 10 minutes or until edges have just begun
to turn light golden brown. Slide parchment onto racks to
cool, and enjoy this classic recipe!

Grandmother's Sugar Cookies
From "A Little Cook Book For A Little Girl" 1905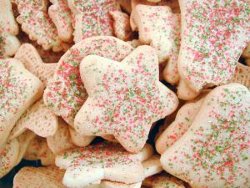 Ingredients:
1 cup of butter.
2 cups of sugar.
2 eggs.
1 cup of milk.
2 teaspoonfuls of baking-powder.
2 teaspoonful of vanilla.
Flour enough to roll out easily.
Instructions:
Rub the butter and sugar to a cream; put
in the milk, then the eggs beaten together
lightly, then two cups of flour, into which you
have sifted the baking-powder;then the vanilla.
Take a bit of this and put it on the floured
board and see if it "rolls out easily," and, if
it does not, but is soft and sticky, put in a
handful more of flour. These cookies must not
be any stiffer than you can help, or they will
not be good, so try not to use any more flour
than you must. I would add... Bake at 350 for
10 to 12 minutes
They usually had tea for luncheon or supper
at Margaret's house, but sometimes they had
chocolate instead, so these things came next
in the cook-book.
Peanut Wafers
From "A Little Cook Book For A Little Girl" 1905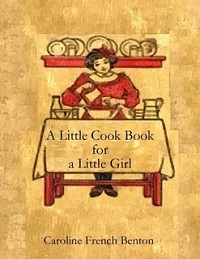 1 cup of sugar.
1/2 cup of butter.
1/2 cup of milk.
1/2 teaspoonful soda.
2 cups of flour.
1 cup chopped peanuts.
Instructions:
Cream the butter and sugar, put the soda
in the milk and stir well, and put this in next;
add the flour and beat well. Butter a baking
pan and spread this evenly over the bottom.
I would add... Bake at 350 for 10 to 12 minutes
No Flour Peanut Butter Cookies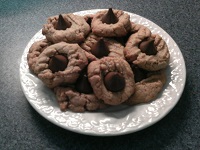 Ingredients:
1 Cup Peanut Butter
1 Cup Sugar
1 Egg
Instructions:
Mix ingredients together in a bowl, and spoon on to
cookie sheet. That's all!
Bake at 350 F. for 12 minutes.
I put a Hershey's Kiss on top of each one, but that's
your choice. These are absolutely great! Fast and easy
to make. What more could you ask for...






The Tradition of Ghost Stories on Christmas Eve:
Ghost stories were an integral part of the Victorian
Christmas. Read around the fire, they were a
popular home amusement in those households that
could not afford the expense of the theatre or concert
going. Many stories were specifically written for such
evening entertainment. A popular example would be,
the ghostly tales of M.R. James (1862-1936). These
were originally composed for reading on Christmas
Eve at King's College, Cambridge. They were first
published as Ghost Stories of an Antiquary in 1904.
"There must be something ghostly in the air of
Christmas, something about the close, muggy
atmosphere that draws up the ghosts, like the
dampness of the summer rains brings out the frogs
and snails... For ghost stories to be told on any
other evening than the evening of the twenty-fourth
of December would be impossible in English society
as at present regulated," - Jerome K. Jerome.
Cafe Mocha Ice Cream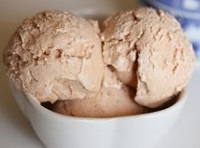 Ingredients:
2 Cups of Milk
1 Can (14oz.) Sweetened Condensed Milk
1/2 Can (6oz.) Evaporated Milk
1/4 Cup Nestle Cafe Mocha Coffee Mate
1 Teaspoon Vanilla Extract
1/2 Teaspoon Coffee Extract
1 1/2 Tablespoons of Sugar
Directions:
In a large bowl mix the ingredients, and chill for 1/2 hour.
Place the mixture into your Ice Cream maker, and wait
until done... YUM! Cafe Mocha was made for Fall!
You may have noticed that this is also a No Cook, No Egg
Ice Cream Recipe. I think that is a plus, but if you like the
other way I am sure that you can adapt it to suit you.

Spritz Cookies
This is a 1963 Betty Crocker Recipe!


Ingredients:
1 cup butter, softened
1/2 cup sugar
2 1/4 cups all purpose flour
1/4 teaspoon salt
1 egg
1/4 teaspoon almond extract or vanilla
Food color, if desired ...
Currants, raisins, candies, colored sugar,
finely chopped nuts, candied fruit or fruit peel,
if desired...
Directions:
Heat oven to 400ºF. Beat butter and sugar in
large bowl with electric mixer on medium speed,
or mix with spoon. Stir in flour, salt, egg, almond
extract and a few drops of food color.
Place dough in cookie press. Form desired
shapes on ungreased cookie sheet.
Decorate with currants.
Bake 5 to 8 minutes or until set but not brown.
Immediately remove from cookie sheet to wire rack.
To decorate cookies after baking, use a drop of
corn syrup to attach decorations to cookies.






The Christmas Goose
"Feasting on geese has long been a tradition in
the Old World, as is clear from ancient mythology.
The prevalence of goose gods in numerous
cultures attests to the ritual importance of geese
and to the fact that these rituals date back to
antiquity. The goose feast that came to characterize
holiday celebrations in later times arise as a modern
day derivative of these ancient rites and sacrifices.
People in Europe, Central Asia, North America, and
North Africa customarily sacrificed geese, particularly
at the turn of the seasons. Like other migratory fowl,
geese appeared and disappeared at crucial times in
the yearly cycle, so eating them customarily
accompanied ceremonial events in the solar and
agricultural year. People have linked geese to the
changing seasons for so long that originally the
goose served as a sacrifice to the spirit of vegetation,
in thanks for the harvest. After the goose was
ceremonially killed, participants in the sacrifice feasted
on its flesh in a ritual that they believed would ensure
the regeneration of the Earth...Goose was served at
the Celtic Samhain, or Halloween; the Germanic Yule,
originally the first day of the new year; and Michaelmas,
the ritual feast of the winter solstice. The Michaelmas
feast is probably the most famous goose feast, apart
from that at Christmas dinner...Turkeys, native to the
New World, were more plentiful than geese during the
period of early settlement. American settlers served
turkey at Thanksgiving, making it the seasonal feast
bird. In much of the Western world today, turkeys have
replaced geese also at the Christmas feast; but for all
practical purposes, these two birds share the same
symbolism. Just as the people of the Old World
connected geese to the sun, some of the North
American tribes connected turkeys to the sun."
Nectar and Ambrosia:
An Encyclopedia of Food in World Mythology



Minute Meringues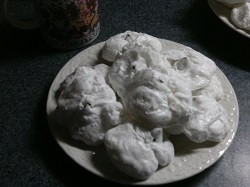 Ingredients:
2 Cups Icing Sugar (Powered Sugar)
1 Egg White
Hershey Kisses (If you like)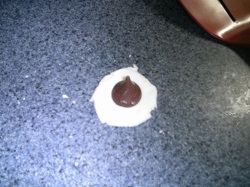 Instructions:
Sift 2 Cups of icing sugar over 1 lightly
beaten egg white. Stir until the mixture is a
thick, pliable icing and roll into balls. I flattened
it out, and put down the Hershey Kiss, then
wrapped the mixture around the Kiss.
Line a plate with a paper towel.
Put 4 balls at a time on the plate and microwave
them on high for 1½ minutes.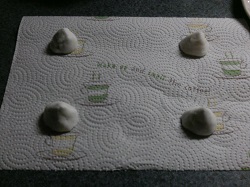 The balls balloon and puff into meringues.
When they are cool, use the meringues in desserts.
They're perfect for sandwiching together with whipped
cream and sliced tropical fruit.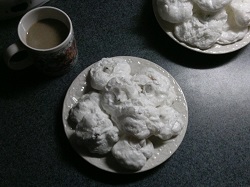 Chocolate Covered Candies
For New Years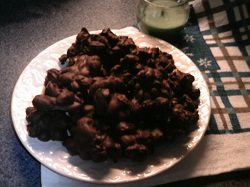 Ingredients:
6 Ounces of Chocolate Chips
6 Ounces of Nuts
Instructions:
In a bowl microwave the chocolate chips for
3 minutes or until completely melted. To this
add the nuts, and spoon on to waxed paper.
Refrigerate until cooled, and enjoy! The best
part besides being very quick, and easy is that
you could substitute the nuts for anything you
like. Fruit, marshmallows, corn flakes with dates,
whatever you can think of that you and your
New Year's party guest would enjoy.


More Great and Vintage Recipes

dddavids Recipes Page 1

dddavids Recipes Page 2

dddavids Recipes Page 3

Old Fall Recipes

dddavids Lower Calorie Recipes

dddavids Old ValentinesDay Recipes

dddavids Old Easter Recipes



dddavids Interesting Facts and Recipes:



Old English Christmas Pudding Recipe:


Christmas pudding, the rich culmination of a long
process of development of plum puddings which
can be traced back to the early 15th century. The
first types were not specifically associated with
Christmas. Like early mince pies, they contained
meat, of which a token remains in the use of suet.
The original form, plum pottage, were made from
chopped beef or mutton, onions and perhaps
other root vegetables, and dried fruit. As the
name suggests, it was a fairly liquid preparation:
this was before the invention of the pudding cloth
made large puddings feasible.
Ingredients:
1lb /450g dried mixed fruit (use golden raisins
/sultanas* , raisins, currants)
1 oz /25 g mixed candied peel, finely chopped
1 small cooking apple, peeled, cored and finely
chopped
Grated zest and juice
1/2 large orange and 1/2 lemon
4 tbsp brandy, plus a little extra for soaking
at the end
2 oz /55 g self-raising flour, sifted
1 level tsp ground mixed spice
1 1/2 tsp ground cinnamon
4 oz /110 g shredded suet, beef or vegetarian
4oz /110g soft, dark brown sugar
4 oz /110 g white fresh bread crumbs
1 oz /25 g whole shelled almonds, roughly
chopped
2 large, fresh eggs
Instructions:
Lightly butter a 2 1/2 pint/1.4 liter pudding basin/17cm
Place the dried fruits, candied peel, apple, orange and
lemon juice into a large mixing bowl. Add the brandy
and stir well. Cover the bowl with a clean tea towel
and leave to marinate for a couple of hours, preferably
overnight.
Stir together the flour, mixed spice and cinnamon in a
very large mixing bowl. Add the suet, sugar, lemon and
orange zest, bread crumbs, nuts and stir again until all
the ingredients are well mixed. Finally add the
marinaded dried fruits and stir again.
Beat the eggs lightly in a small bowl then stir quickly
into the dry ingredients. The mixture should have a
fairly soft consistency.
Now is the time to gather the family for Christmas
Pudding tradition of taking turns in stirring, making a
wish and adding a few coins.
Spoon the mixture in to the greased pudding basin,
gently pressing the mixture down with the back of a
spoon. Cover with a double layer of greaseproof
paper or baking parchment, then a layer of aluminum
foil and tie securely with string.
Place the pudding in a steamer set over a saucepan
of simmering water and steam the pudding for 7
hours. Make sure you check the water level
frequently so it never boils dry. The pudding should
be a deep brown color when cooked. The pudding is
not a light cake but instead is a dark, sticky and
dense sponge.
Remove the pudding from the steamer, cool
completely. Remove the paper, prick the pudding
with a skewer and pour in a little extra brandy.
Cover with fresh greaseproof paper and retie with
string. Store in a cool dry place until Christmas day.
Note: The pudding cannot be eaten immediately, it
does need to be stored and rested then reheated on
Christmas Day. Eating the pudding immediately after
cooking will cause it to collapse and the flavors will
not have had time to mature.


Russian Tea Cakes


Ingredients:
1 cup (1/2 lb.) unsalted butter
1/2 cup (2 oz.) powdered sugar
1 teaspoon vanilla
2 1/4 cups (9 oz.) all-purpose flour
1/4 teaspoon salt
3/4 c. (3 oz.) pecans
Instructions:
Cream the butter and sugar. Beat in the vanilla.
Set aside.
Place the flour and finely chopped pecans in a
bowl. Add to the butter mixture with the salt.
Stir to form a soft dough.
Mold into 1-inch balls and bake on an ungreased
or parchment-lined baking sheet at 400° until set,
about 8 to 10 minutes. The cookies will have
puffed slightly and cracked. The bottoms of the
cookies will be golden brown. Remove from the
oven and cool for one minute on the baking sheet.
Transfer the cookies to a wire rack and let cool for
five minutes. While the cookies are still warm
(not hot), roll in powdered sugar. Remember, If the
cookies are too hot, the sugar will melt to a frosting
like coating. If you wish it, then it is o.k.



Food in the 1700's:
During the 1700s venison was the meat which was a
symbol of the highest social status. If a person could
serve venison, it meant that he/she was the owner of
a vast property, or knew someone who was.
A Swedish tourist is known to have said in 1748 that
the English were good at cooking big pieces of meat,
but did not seem to have talent in any other arenas of
cooking.
Evening meals might have contained cold meats, sweets,
fruit, and wine on ordinary occasions, a choice of hot
dishes when company was present.
Hot food was generally only served when guests were
visiting, and most English often ate cold meats for their
evening supper.
In fact, tourists complained about the chilly temperature
of the victuals they were served.
The caliber of food became rather poor during the 1700s
in England, as meat rose in popularity.
Due to urbanization, large quantities of meat had to be
transported from the farms to the cities. Since the trip
was by no means short or easy, the quality of meat was
bound to be coarse and inferior.
A doctor who was the author of the 1788 book.
The Honors of the Table warned that the odor of meat
was such that one should keep it away from his/her nose
while eating it.




1900 Recipe for Scotch Short Bread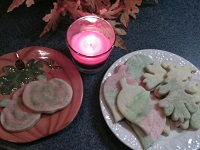 Ingredients:
1 pound of flour (3 1/3 cups)
1/2 pound butter (2 sticks)
6 ounces sugar (3/4 cup)
1 Teaspoon of Vanilla
Food Coloring
Instructions:
Cream butter and sugar, add flour,
and Vanilla.
Roll into a smooth ball and work down until
1/4 an inch in thickness, an operation which is
rather difficult for a novice, as it is apt to crack
at the edges; but the knack is soon learned,
and the more it is worked the better.
Mix your food coloring in separate small bowls,
and paint on the dough. Cut out with Fall leaf,
pumpkin, and nut shapes. What ever you like.
The painting of the colors is most fun.
Bake at 350 F.
For 8 to 10 minutes.
I love these! They go great with Fall!!!





For the Witch at Christmas:
December 25 was a significant date for
various early cultures. The ancient
Babylonians believed the son of the queen
of heaven was born on December 25. The
Egyptians celebrated the birth of the son of
the fertility goddess Isis on the same date,
while ancient Arabs contended that the moon
was born on December 24.
The Romans celebrated Saturnalia, a feast
named for Saturn, god of agriculture, on
December 21, the winter solstice in the northern
hemisphere. They believed the shortest day of
the year was the birthday of the sun. The
Roman emperor Constantine was a member of
the sun-cult before converting to Christianity in
312.
Some scholars suspect that Christians chose to
celebrate Christ's birth on December 25 to make
it easier to convert the pagan tribes. Referring to
Jesus as the "light of the world" also fit with
existing pagan beliefs about the birth of the sun.
The ancient "return of the sun" philosophy had
been replaced by the "coming of the son"
message of Christianity...as it was for Witches
Once upon a time, Christmas was called Yule.
I am sure that you have heard of the "Yule log",
as it still retains it's ancient name.
As there once was a Yule tree which is now
called the Christmas tree. People once hung
Mistletoe and brought greenery into the home
to help dispel the harsh bleakness of the cold
winter months. At one time many, many candles
were lit to bring the light back during the dark
months and today's Witches still hang lights to
add to the celebration of the Yuletide season.
You see Christmas is just the modern equivalent
of Yule. There's very little difference as far as
most Witches are concerned.
The main focus of the season? Witches and
Pagans celebrate the the re-birth of the Sun.
Everyone can celebrate the focus of their
choosing. They still have a holiday feast, for the
gathering of friends and family, the exchange of
gifts and share more things in common than
apart from their religious counterpart.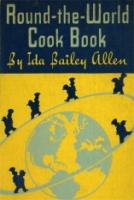 Butterscotch Pie
from the Round The World Cookbook-1934
1 pre baked pie crust
1 cup dark brown sugar
3 tablespoons butter
1 1/2 cups milk
1/2 tsp vanilla extract
2 eggs, separated
3 tbsp all purpose flour
2 tbsp powdered sugar
Heat a heavy fry pan over medium heat.
Add the butter and brown sugar and stir until the
sugar is melted and a thick brown syrup is formed.
Add one cup of the milk into the pan, and the vanilla.
Beat the egg yolks lightly in a medium sized bowl,
and combine with the remaining milk and the flour
until smooth. Add to the mixture in the fry
pan and stir over medium heat until thickened
and creamy.
Pour into cooled pie crust.
Beat remaining egg whites with powdered sugar
until stiff and spoon decoratively over pie.
Bake in preheated 325 degree oven until meringue is browned.

Other Interesting Links

Recipes from 1700s including a dish that 'cured the plague'

A Recipe for Homemade Apple Cider

The Henry Ford Recipe Bank

Mid Century Menu Top 5 Cookies

Good HouseKeeping's 30 Best Cookies

The First Chocolate Chip Cookie Recipe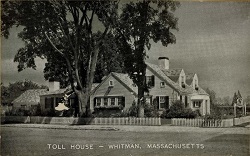 The chocolate chip cookie was invented by
Ruth Graves Wakefield. She owned the Toll
House Inn, in Whitman, Massachusetts, a very
popular restaurant that featured home cooking
in the 1930s. Her cookbook, Toll House Tried
and True Recipes, was first published in 1936.
The 1938 edition of the cookbook was the first
to include the recipe "Toll House Chocolate
Crunch Cookie" which rapidly became a favorite
cookie in American homes.
Mrs. Wakefield stated that she deliberately
invented the cookie. She said, "We had been
serving a thin butterscotch nut cookie with ice
cream. Everybody seemed to love it, but I was
trying to give them something different. So I
came up with Toll House cookie."
Here is Mrs. Wakefield's Original
Toll House Cookie Recipe
Ingredients:
2 1/4 cups all-purpose flour
1 teaspoon baking soda
1 teaspoon salt
1 cup (2 sticks) butter or margarine, softened
3/4 cup granulated sugar
3/4 cup packed brown sugar
1 teaspoon vanilla extract
2 large eggs
1 2/3 cups semi-sweet chocolate morsels
1 cup chopped nuts
Instructions:
Set oven to 375° F.
In a small bowl, mix flour, salt and baking
soda and set aside. In a larger bowl, cream
butter and sugars and add vanilla extract.
Blend until smooth and creamy. Add one
egg and beat well. Add the second egg and
beat well. Gradually fold in flour mixture and
stir in chocolate pieces. Drop a tablespoon
size dollop onto baking sheets and bake
cookies until golden brown or for around 10
minutes. Remove from oven and allow to
cool on trays for 2 minutes before
transferring to a wire rack to cool completely.
Ruth and Kenneth Wakefield sold the
Toll House Inn in 1966




Very Old Christmas Cartoons
Santa's Surprise (1947),Christmas Cartoon
Christmas Comes But Once A Year (1936)
Peace On Earth. Classic Christmas cartoon. MGM 1939
The Christmas Visitor (1959)
The Little King in "Christmas Night"
Twas the Night Before Christmas
Very old Christmas Movies
A Christmas Accident-1912
Scrooge (1935)
Christmas: an Old Silent Film
1908 Edison The Night Before Christmas [Slient]
The Adventure of the Wrong Santa Claus (1914) [Silent] Edison
Dreams of Toyland (1908) [Slient]
Footage From A Snowball Fight, 1895-1897
Old Christmas Music For You
Classical Christmas Music...Nice!
Fireplace with Christmas Music
3 Hour Medley of Christmas
86th Annual Morehouse Christmas Carol Concert

Happy, happy Christmas, that can win us
back to the delusions of our childhood days,
recall to the old man the pleasures of his
youth, and transport the traveler back to his
own fireside and quiet home!
Charles Dickens


1918 Cheese Ball(s) Recipe
Instructions:
Cheese Ball No. 1,
Take one cake of cream cheese, one-quarter
of a pound of chopped figs, one-quarter of a
pound of chopped walnuts, roll into balls and
serve on lettuce leaves.
Cheese Balls, No. 2
Mix one cake Neufchatel cheese, a piece of
butter the size of the cheese, one tablespoon
of cream, one-quarter teaspoon of salt and
six dashes of Tabasco Sauce and form one
large ball or several small ones and roll in
chopped pecan nuts.
Jewish Cook Book, Florence Kreisler Greenbaum

No time, but you still want a Festive Christmas Cookie?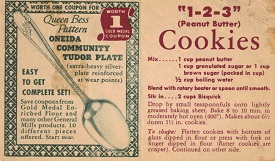 Try these 123 Peanut Butter Cookies
Ingredients:
1 Cup Peanut Butter
1 Cup Granulated or Brown Sugar
1/2 Cup Boiling Water
Instructions:
Mix ingredients until smooth
Add 2 cups of Bisquick, blend
Drop by teaspoonfuls onto cookie sheet,
and bake at 400 F. for 8 to 10 minutes.
To shape you can flatten with a fork.
See, that was very easy...
Published by General Mills in 1951


Fig Pudding aka Figgy Pudding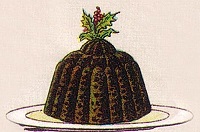 Ingredients
One and one-half pounds of figs
1/4 pounds of bread crumbs
1 teacup of sweet milk
2 1/2 ounces of granulated sugar
3 ounces of suet
2 eggs beaten separately
Chop figs and suet fine, put in sugar
and eggs
Instructions:
Beat all together, add 1 teaspoon of
cinnamon, and 1 of cloves and allspice
mixed. Have mold buttered and sprinkle
with flour. Steam 3 hours.
Hard Sauce
One-fourth pound of butter, well creamed.
Add to it 1 pint of granulated sugar.
Beat hard 15 minutes.
Add wine glass of sherry.

Old Fashioned Gingerbread Cookies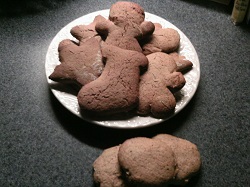 Ingredients:
1 Cup Butter
1 Cup Sugar
1 egg
1 Cup Molasses
5 Cups Flour
1 1/2 Teaspoons Baking Soda
1/2 Teaspoon Salt
2 Teaspoons Ginger
1 Teaspoon Cinnamon
1 Teaspoon Ground Clove
1 Teaspoon Vanilla
Instructions:
Cream together butter and sugar.
Beat in egg, molasses, and vanilla
Blend in sifted dry ingredients.
Chill 2-3 hours (the dough is
easier to roll and cut after chilling).
Roll 1/8 inch to 1/4 inch thick on
a floured counter or board and cut
into shapes.
Place on greased cookie sheets.
Bake at 375 degrees for about 10
minutes. Frost if you desire.

Mamie Eisenhower's Million Dollar Fudge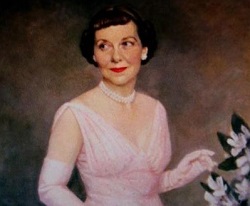 Ingredients:
4 1/2 cups sugar
Pinch salt
2 tablespoons butter
1 (12-ounce) can evaporated milk
2 cups coarsely chopped pecans
1 pint (1 jar) marshmallow cream
12 ounces semisweet chocolate
12 ounces German's sweet chocolate
Directions:
In a heavy saucepan over medium heat,
bring the sugar, salt, butter and evaporated
milk to a boil. Boil for 6 minutes.
Meanwhile, place the pecans, marshmallow
fluff and chocolate in a large bowl. Pour the
boiled syrup over the chocolate mixture.
Beat until chocolate is all melted.
Spray a 15 1/2 by 10 1/2 by 1-inch jelly-roll
pan with a nonstick cooking spray and pour
fudge into pan. Let harden at room temperature
before cutting into 1-inch squares (can be
placed in the refrigerator or freezer to speed
hardening process).

Milk Chocolate Star Cookies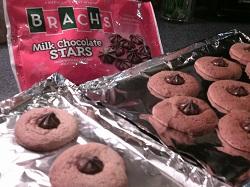 Ingredients:
2 1/2 Cups of Flour
3/4 Teaspoons of Baking Soda
1/2 Teaspoons of Baking Powder
1/2 Teaspoons of Salt
1 Cup of Butter
1 Cup Of Creamy Peanut Butter
1 Cup Brown Sugar firmly packed
1 Cup of Sugar
2 Eggs
1/2 Teaspoon of Vanilla
Instructions:
Preheat oven to 350 F.
Whisk together the flour, baking soda,
baking powder, and salt. Set aside.
Mix butter, peanut butter, and both
sugars until light and fluffy. Add
eggs, one at a time, and vanilla.
Mix well.
Slowly add the dry ingredients, and
blend well. Spoon on to cookie sheets,
and bake 10 to 12 minutes.
You need to try this recipe. These
cookies turn out both light and fluffy,
and crispy! A+ on this recipe.

Cranberry Fluff Salad

Ingredients:
12 ounces fresh cranberries,
frozen, then thawed cranberries
(fresh or frozen also work)
1/2 cup sugar
8 ounces crushed pineapple, drained
2 cups mini-marshmallows
1 cup heavy cream

Instructions:
Chop cranberries in a food processor.
Remove to a bowl.
Mix in sugar, cover, and refrigerate overnight.
Add well drained pineapple and marshmallows.
Mix to combine.
Whip heavy cream to stiff peaks.
With a rubber spatula,
gently fold the cream into the cranberry mixture.
Refrigerate until ready to serve.