dddavids Hauntingly Good
Vintage Valentines Day Recipes

Don't Miss The Famous Countdown To Easter!

Leave Your Comments Below



Vintage Valentine Sugar Cookies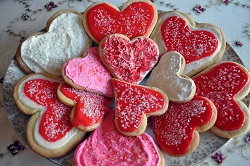 Ingredients:
2 Cups sifted flour
1/2 tsp baking powder
1/4 tsp salt
1/4 tsp nutmeg
2/3 Cups butter
1 1/2 tsp vanilla extract
1 Cups sugar
2 eggs, well beaten
Sift together the flour, baking powder, salt and nutmeg and set aside. Cream butter together with vanilla extract until softened. Add sugar gradually, creaming until fluffy after each addition. Add the two beaten eggs in thirds, beating thoroughly after each addition. Stir in try ingredients in fourths, blend well. Cover and chill dough in fridge about 1 hour.
Remove amount of dough needed for a single rolling and return remainder to fridge immediately. Roll dough 1/16 in. thick on lightly floured surface. Cut with floured cookie cutter, sprinkle with sugar unless icing.
Bake at 375 F (190C) 12 to 15 minutes. Remove immediately to cooling racks to cool, then decorate.
Royal Icing Recipe:
Royal Icing Using Egg Whites:
2 large (60 grams) egg whites
2 teaspoons fresh lemon juice
3 cups (330 grams) confectioners (powdered or icing) sugar, sifted



Red Velvet Cupcakes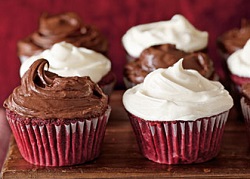 Ingredients:
Cake
1/3 cup(s) cocoa
3 tablespoons red food coloring
1 1/2 teaspoons vanilla extract
1/2 cup(s) butter, softened
1 1/2 cups sugar
4 egg yolks
1 cup buttermilk
1 teaspoon salt
2 1/4 cups sifted cake flour
1 teaspoon baking soda
1 teaspoon white vinegar
Frosting
1 cup milk
3 tablespoons flour
1/8 teaspoon salt
8 ounces of either 62 percent dark chocolate or white chocolate
1 cup butter
1 1/2 cups confectioners' sugar
2 tablespoons cocoa (for white chocolate frosting, omit cocoa)
1 teaspoon vanilla extract
Directions
Cake:
Heat oven to 350 degrees F. Line 2 standard 12-cup cupcake tins with baking papers and set aside. Mix the cocoa, food coloring, and vanilla together in a small bowl and set aside. Beat the butter and sugar together in a large bowl, using a mixer set on medium-high speed. Add the yolks and beat for 1 more minute. Add the cocoa mixture and beat to combine. Stir the buttermilk and salt together and add it in thirds, alternating with the flour. Mix the baking soda with the vinegar and blend into the batter. Fill each cupcake tin with 3 tablespoons batter, and bake until a toothpick inserted in the cupcake center tests clean, about 15 minutes. Cool in the pans on a wire rack for 15 minutes. Release cakes and cool completely before frosting with Cooked Chocolate Frosting.
Frosting:
Whisk milk, flour, and salt in a small saucepan over medium heat until the mixture thickens and begins to bubble, 1 to 2 minutes. Transfer to a small bowl and let cool.
Melt either dark chocolate or white chocolate. Set aside to cool.
Beat butter, confectioners' sugar, and cocoa (for white chocolate frosting, omit cocoa) together until light and fluffy. Beat in the cooled chocolate and add milk mixture and vanilla extract (dark chocolate frosting only) until smooth and fluffy. Use immediately.



Double Chocolate Cherry Drops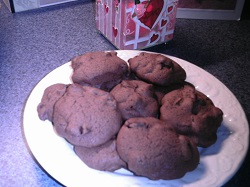 Ingredients:
1 3/4 cups all-purpose flour
3/4 cup unsweetened cocoa
1/4 teaspoon salt
1 cup (2 sticks) butter or margarine, softened
1 cup sugar
1/4 cup light corn syrup
2 teaspoons vanilla extract
1 large egg
8 ounces semisweet or white chocolate, cut into 1/2-inch chunks
1 cup dried tart cherries
Directions:
Preheat oven to 350 degrees F.
On waxed paper, combine flour, cocoa, and salt.
In large bowl, with mixer at medium speed, beat butter and sugar until creamy, occasionally scraping bowl with rubber spatula. Beat in corn syrup, vanilla, and egg until well mixed. At low speed, gradually add flour mixture; beat just until blended, occasionally scraping bowl. With spoon, stir in chocolate chunks and cherries.
Drop cookies by rounded measuring teaspoons, 2 inches apart, onto ungreased cookie sheet. Bake cookies 10 to 11 minutes or until tops are just firm. Transfer cookies to wire rack to cool. Repeat with remaining dough.


Red Sugar Dome Cookies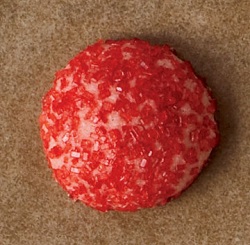 Ingredients:
2 cups (4 sticks) butter, softened
1 1/2 cups sugar
2 eggs 3 egg yolks
2 teaspoons vanilla extract
5 cups flour
1 teaspoons salt
1 1/4 teaspoons ground cinnamon
1/4 teaspoons ground allspice
Directions:
Beat the butter, using a mixer on medium-high speed. Beat in the sugar, eggs, yolks, and vanilla. Reduce mixer speed to medium-low and beat in the remaining ingredients. If tinting dough, add food coloring.
For chocolate dough, reduce flour to 4 1/2 cups and add 2/3 cup cocoa. For hand-formed cookies, transfer to an airtight container. For rolled and cut cookies, divide dough in half, form into 1-inch-thick slabs, and cover tightly with plastic wrap. For sliced cookies, use parchment paper to roll dough into logs.
Chill dough at least 2 hours. And chill formed cookies 20 minutes before baking at 350 degrees F on parchment-lined baking pans 10 to 15 minutes, depending on cookie size. For tinted-dough cookies, reduce oven temperature to 325 degrees F and bake 12 to 18 minutes.




Rocky Road Bar recipe


Ingredients:
1/4 cup sifted all-purpose flour
1/4 tsp baking powder
1/8 tsp salt
1/3 cup brown sugar, packed
1 egg
1 tbsp softened butter
1/2 tsp vanilla
1 cup coarsely chopped walnuts
1 cup quartered marshmallows
1 6 oz pkg (1 cup) semi-sweet real chocolate pieces
Directions:
Sift flour with baking powder and salt. Add sugar, egg, butter and vanilla. Beat smooth. Stir in 1/2 cup walnuts. Turn into greased 9 in sq pan. Bake at 350 F 15 min until top is lightly browned and springs back when touched lightly.
Remove from oven. Immediately arrange marshmallows, remaining walnuts and chocolate over top. Return pan to oven for 2 min or until chocolate is softened. Remove from oven; swirl chocolate over marshmallows and walnuts.
Cool until chocolate is set. Cut into 15 (1 3/4 x 3 in) bars.





Make Every Day A Good Day!



White Chocolate Valentine Fudge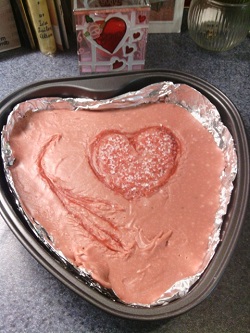 Ingredients:
1 1/2 sticks of Butter
3 cups of Sugar
2/3 cups of Evaporated Milk
1 Jar (7 oz.) Marshmallow Creme
1 Bag of White Chocolate Chips (12 oz.)
1 Tsp. Vanilla
Red Food Coloring
Instructions:
Combine butter, sugar, and milk, and bring to boil. Let boil for 5 minutes, or until candy thermometer reaches 234 degrees F. Turn off burner.
Add 1 Bag of white chocolate chips, marshmallow creme, and vanilla. Stir until well blended, and add the food coloring, and stir.
Pour into pan that has been lined with aluminum foil. Chill intil cooled.




More Great and Vintage Recipes

dddavids Recipes Page 2

dddavids Recipes Page 3

dddavids Old Fall Recipes

dddavids Lower Calorie Recipes

dddavids Old Christmas Recipes

dddavids Old Easter Recipes




The Traditions of Valentines Day:
Each year on February 14th, many people exchange cards, candy, gifts or flowers with their special Valentine. The day of romance we call Valentine's Day is named for a Christian martyr and dates back to the 5th century.
Saint Valentine's Day, also known as Valentine's Day or the Feast of Saint Valentine, is a holiday observed on February 14 each year. It is celebrated in many countries around the world, although it is not a holiday in most of them




St. Valentine's Day began as a liturgical celebration one or more early Christian saints named Valentinus. Several martyrdom stories were invented for the various Valentines that belonged to February 14, and added to later martyrologies. A popular hagiographical account of Saint Valentine of Rome states that he was imprisoned for performing weddings for soldiers who were forbidden to marry and for ministering to Christians, who were persecuted under the Roman Empire. According to legend, during his imprisonment, he healed the daughter of his jailer, Asterius. An embellishment to this story states that before his execution he wrote her a letter signed "Your Valentine" as a farewell. Today, Saint Valentine's Day is an official feast day in the Anglican Communion, as well as in the Lutheran Church. The Eastern Orthodox Church also celebrates Saint Valentine's Day, albeit on July 6 and July 30, the former date in honor of the Roman presbyter Saint Valentine, and the latter date in honor of Hieromartyr Valentine, the Bishop of Interamna (modern Terni). In Brazil, the Dia de São Valentim is recognized on June 12.






More History Of Valentines Day
There were many different styles of early Victorian valentines, including:
Acrostic: Valentines containing verses in which the first lines spelled-out the loved one's name.
Cutout: Valentines made by folding the paper several times and then cutting-out a lacelike design with small sharp-pointed scissors.
Fraktur: Valentines with ornamental lettering in the style of illuminated manuscripts from the Middle Ages.
Pinprick: Valentines made by pricking tiny holes in paper with a pin or needle and thus creating the appearance of lace.
Theorem or Poonah: Valentines with designs which were painted through a stencil cut in oil paper. This particular style originated in the Orient.
Puzzik or Puzzle Purse: Quaint valentines, customarily homemade, which contained a folded puzzle to be read, solved and then refolded. Not only was it necessary to decipher the message, it was also necessary to refold the paper correctly once it was opened. This valentine contained many folds of verses that had to be read in a certain sequence. The order of the verses was usually numbered and the recipient would have to twist the folds in order to determine what had been written.
Rebus: Valentines which contained romantic verses written in ink with certain words omitted and illustrated by tiny pictures instead (the image of an eye would take the place of the word "I" for example). Meant to be a riddle, these valentines were not always necessarily easy to decipher. The rebus valentine had many forms, but the one mentioned herein was the most common and the most popular.
*Source: History of the Card





As the Ledgeon goes...
J.C. Cooper, in The Dictionary of Christianity, writes that Saint Valentine was "a priest of Rome who was imprisoned for succouring persecuted Christians."Contemporary records of Saint Valentine were most probably destroyed during this Diocletianic Persecution in the early 4th century.In the 5th or 6th century, a work called Passio Marii et Marthae published a story of martyrdom for Saint Valentine of Rome, perhaps by borrowing tortures that happened to other saints, as was usual in the literature of that period. The same events are also found in Bede's Martyrology, which was compiled in the 8th century. It states that Saint Valentine was persecuted as a Christian and interrogated by Roman Emperor Claudius II in person. Claudius was impressed by Valentine and had a discussion with him, attempting to get him to convert to Roman paganism in order to save his life. Valentine refused and tried to convert Claudius to Christianity instead. Because of this, he was executed. Before his execution, he is reported to have performed a miracle by healing Julia, the blind daughter of his jailer Asterius. The jailer's daughter and his forty-four member household (family members and servants) came to believe in Jesus and were baptized. A later Passio repeated the legend, adding that Pope Julius I built a church over his sepulchre (it is a confusion with a 4th-century tribune called Valentino who donated land to build a church at a time when Julius was a Pope). The legend was picked up as fact by later martyrologies, starting by Bede's martyrology in the 8th century. It was repeated in the 13th century, in Legenda Aurea. The book expounded briefly the Early Medieval acta of several Saint Valentines, and this legend was assigned to the Valentine under February 14.


There is an additional embellishment to The Golden Legend, which according to Henry Ansgar Kelly, was added centuries later, and widely repeated. On the evening before Valentine was to be executed, he would have written the first "valentine" card himself, addressed to the daughter of his jailer Asterius, who was no longer blind, signing as "Your Valentine."

2 Layer Valentines Day Brownie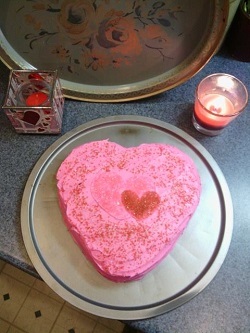 Ingredients:
1 Box of Brownie mix
Pink icing
Red, White, and Pink sugar crystals
Instructions: Prepare the brownie mix as stated on the box.
Split the batter in half, and spoon into 2
heart shaped pans, and bake according to
directions on the box. The brownies are done
when a tooth pick poked into the center comes
out clean.
Let cool, and ice the first layer. Place the
second layer on top of the first, and finish
icing the brownies, and decorate with the sugar
crystals. It's not an old recipe, but it is a
nice looking one.
See how Wesley helped...


White Chocolate Valentine Candies


These are made 2 different ways. The first one with dried cranberries, and peanuts, and the second with dries cranberries and small marshmallow. Both are equally delicious.
Ingredients:
If making the peanut version
1/2 Cup of Dry Roasted Peanuts
1 Cup of Dried Cranberries
1 1/2 Cups of White Chocolate
Version 2
1 Cup of Small Marshmallows
1 Cup of Dried Cranberries
Directions:
Place white chocolate in a bowl, and microwave for about 2 minutes, or until melted. Stir until well blended, and add the ingredients of the version that you are making. mix well, and spoon onto wax paper. Place in the refrigerator until solid. Enjoy a very tasty Valentines Day Treat.

Follow dddavids's board Vintage Valentines Day Cards and Recipes on Pinterest.

Valentines Day Links:

Free Vintage Kids Valentine Cards

Vintage Valentine's Day Postcards from the Early 1900's

Have your own Vintage Valentine's Day Tea Party

Decorating a Vintage Window