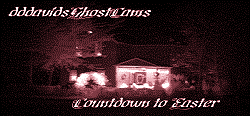 Origins of the Easter Bunny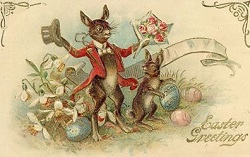 The Bible makes no mention of a long-eared, short-tailed creature who happily delivers decorated eggs to well-behaved children on Easter Sunday; nevertheless, the Easter bunny has become a prominent symbol of Christianity's most important holiday. The exact origins of this mythical creature are unclear, but rabbits, known to be prolific procreators, are an ancient symbol of fertility and new life. According to some sources, the Easter bunny first arrived in America in the 1700s with German immigrants who settled in Pennsylvania and transported their tradition of an egg-laying hare called "Osterhase" or "Oschter Haws." Their children made nests in which this creature could lay its colored eggs. Eventually, the custom spread across the U.S. and the fabled rabbit's Easter morning deliveries expanded to include chocolate and other types of candy and gifts, while decorated baskets replaced nests. Additionally, children often left out carrots for the bunny in case he got hungry from all his hopping. As one would expect...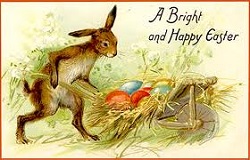 More On The Easter Bunny
The Easter Bunny (also called the Easter Rabbit or Easter Hare) is a folkloric figure and beloved symbol of Easter, depicted as a rabbit bringing Easter eggs. Originating among German Lutherans, the "Easter Hare" originally played the role of a judge, evaluating whether children were good or disobedient in behavior at the start of the season of Eastertide (Eastertide is the time of new life). The Easter Bunny is sometimes depicted with clothes, sometimes not. As the legend goes, the Bunny carries colored eggs in his basket, candy, and sometimes toys to the homes of the good children, and as such shows similarities to Santa Claus or the Christkind, as they both bring gifts to well behaved children on the night before their respective holidays. The custom was first mentioned in Georg Franck von Franckenau's De ovis paschalibus (About Easter Eggs) in 1682 referring to a German tradition of an Easter Hare bringing Easter eggs for the children.


How Many Days Until Easter!
Easter 2023 is on Sunday, April 09
Follow dddavids GhostCams on...








View the Live Victorian Easter Cams
and maybe the Easter Bunny!

[Cams Auto Reload In 5 Seconds]

Rabbits and Hares
The hare was a popular motif in medieval church art. In ancient times, it was widely believed (as by Pliny, Plutarch, Philostratus, and Aelian) that the hare was a hermaphrodite. The idea that a hare could reproduce without loss of virginity led to an association with the Virgin Mary, with hares sometimes occurring in illuminated manuscripts and Northern European paintings of the Virgin and Christ Child. It may also have been associated with the Holy Trinity, as in the three hares motif, Eggs, like rabbits and hares, are fertility symbols of antiquity. Since birds lay eggs and rabbits and hares give birth to large litters in the early spring, these became symbols of the rising fertility of the earth at the Vernal Equinox.

Home

Vintage Easter Recipes

Ghost of Easter Past

More On Rabbits and Hares
Rabbits and hares are both prolific breeders. Female hares can conceive a second litter of offspring while still pregnant with the first. This phenomenon is known as superfetation. Lagomorphs mature sexually at an early age and can give birth to several litters a year (hence the saying, "to breed like bunnies"). It is therefore not surprising that rabbits and hares should become fertility symbols, or that their springtime mating antics should enter into Easter folklore.

Vintage Easter Decorating.
Follow dddavids's board Vintage Easter in the Haunted House on Pinterest.


"Vintage" Easter Craft Ideas you can make!




More Easter Seasonal Fun:
10 Retro Easter Crafts

How-To: Vintage Doily Easter Basket

Easter, Mantels

A Vintage Easter Project

DIY Easter Crafts, Eggs!

Super Chicken The Easter Bunny (1967)

Easter Egg Mornin

A Family Circus Easter

Candy Town (1933)

Count Down to Halloween!

Count Down to Christmas!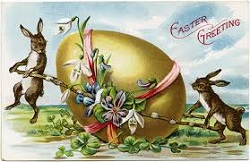 Easter egg and Egg decorating
A bunny and it's eggs.
In addition, Orthodox churches have a custom of abstaining from eggs during the fast of Lent. The only way to keep them from being wasted was to boil or roast them, and begin eating them to break the fast. As a special dish, they would probably have been decorated as part of the celebrations. Later, German Protestants retained the custom of eating colored eggs for Easter, though they did not continue the tradition of fasting. Eggs boiled with some flowers change their color, bringing the spring into the homes, and some over time added to the custom of decorating the eggs. Many Christians of the Eastern Orthodox Church to this day typically dye their Easter eggs red, the color of blood, in recognition of the blood of the sacrificed Christ (and, of the renewal of life in springtime). Some also use the color green, in honor of the new foliage emerging after the long dead time of winter. The Ukrainian art of decorating eggs for Easter, known as pysanky, dates to ancient, pre-Christian times. Similar variants of this form of artwork are seen amongst other eastern European cultures.