dddavids Hauntingly Good Recipes
Leave Your Comments Below



I probably have begun latter in life than most to learn how to cook things,
so you will have to forgive my excitement at being able to make something
relativity easy and be very elated over it turning out well.
I am also fascinated by food and desert recipes from 100 to 200 plus years
ago. They are mainly old recipes that I will be posting, and trying.
These will be foods, and deserts that I have made in the Haunted Kitchen.
Who knows, maybe the spirits of cooks past are with me to help me through it.

Gewurzplatzchen (Spice Cookies)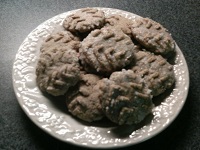 Ingredients:
1/2 c butter
1 c brown sugar, firmly packed
1/4 c molasses
1/4 tsp salt
1 t cinnamon
1/2 tsp cloves, ground
1/4 c shortening
1 large egg
2 1/2 c unbleached flour, unsifted
2 tsp baking soda
1/2 tsp ginger
1/2 tsp allspice, ground
Instructions:
Preheat oven to 350F degrees.
Cream butter, shortening, and brown sugar thoroughly.
Blend in egg and molasses. Sift together the remaining
ingredients. Stir into sugar mixture. Shape dough into
3/4-inch balls. Place 2 inches apart on greased baking
sheets. Flatten each ball with the bottom of a glass that
has been greased and dipped into sugar.
Bake for 12 to 15 minutes.
These turned out very nice. I made the design on the top
using an antique potato masher. Note: If you don't have
Molasses, you can substitute with honey.



1930's 2 Egg Cake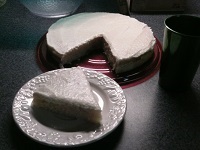 Ingredients:
2/3 cup of butter or margarine
1 cup sugar
2 eggs
1 teaspoon vanilla
1 3/4 cups cake flour
2 teaspoons baking powder
1/2 teaspoon salt
1/2 cup of milk
Directions:
Stir the butter until creamy, and gradually work in
the sugar. Slightly beat the eggs, add the vanilla,
combine with the butter mixture, and blend.
Sift the dry ingredients together, and add alternately
with the milk to the first mixture.Transfer to 2 9 inch
layer cake pans rubbed with butter, and dusted sparingly
with flour.
Bake at 375 F. for 25 minutes, or until toothpick comes out
clean.
Creamy Icing
Ingredients:
1/2 cup butter or margarine
2 cups sifted confectioners sugar
1 teaspoon vanilla
1/8 teaspoon salt
2 tablespoons hot milk
Instructions:
Cream butter, and gradually work in confectioners sugar,
vanilla, and salt. Add the hot milk, and the second cup of
confectioners sugar, and beat until creamy.
Spread in between the layers, and top of your cake.
This is a more dense cake than today's variety, and
definitely shorter, but tasty, and interesting all the same.



Scotch Short Bread
1900 Recipe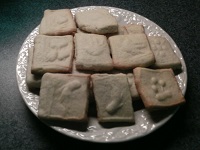 Ingredients:
1 pound of flour (3 1/3 cups)
1/2 pound butter (2 sticks)
6 ounces sugar (3/4 cup)
Instructions:
Cream butter and sugar, add flour.
Roll into a smooth ball and work down until
half an inch in thickness, an operation which is
rather difficult for a novice, as it is apt to crack
at the edges; but the knack is soon learned,
and the more it is worked the better. Bake at 350 F.
For 8 to 10 minutes.
I love these! They would also be great with 1/2
dipped into melted chocolate.

Australian Damper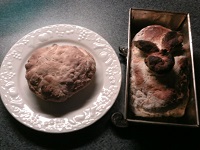 Damper is a traditional Australian soda bread prepared
by swagmen, drovers, stock-men and other travelers.
It consists of a wheat flour based bread, traditionally
baked in the coals of a campfire.
Ingredients:
Original recipe makes 1 loaf
4 cups self-rising flour
1 teaspoon salt
1 tablespoon butter, softened
1 cup milk
1/2 cup water
Instructions:
Preheat oven to 425 degrees F.
Grease a baking sheet, or pan.
In a large bowl, stir together the flour and the salt.
With pastry blender or your hands, cut in butter.
Make a well in the center of the flour mixture and
pour in the milk and water. Stir until the dough
comes together. Turn the dough out onto a lightly
floured surface and form into a round loaf 8 inches
across. Place the loaf onto the prepared pan and
using a sharp knife, cut a cross in the top.
Bake 425 F. 25 minutes, then lower the
temperature to 350 F. and continue to bake for an
additional 5 to 10 minutes.
The loaf should be golden brown and the bottom
should sound hollow when tapped.
I like this very much for a "Quick Bread", it's like a
large biscuit, but the outside is very crunchy, and the
Damper itself just holds a little something special.



The History Of Breads
The making of breads go back at least 30,000 years.
The first bread produced was probably cooked
versions of a grain-paste, made from roasted and
ground cereal grains and water, and may have been
developed by accidental cooking or deliberate
experimentation with water and grain flour.
In medieval Europe, bread served not only as a staple
food but also as part of the table service. In the
standard table setting of the day the trencher, a piece
of stale bread roughly 6 inches by 4 inches, was
served as an absorbent plate. At the completion of a
meal the trencher could then be eaten, given to the
poor, or fed to the dogs. It was not until the 15th
century that trenchers made of wood started to
replace the bread variety.



Leave a Comment:





The History of Pancakes
Pancakes are ancient food. The word pancakes appears
in print as early as 1430. Pancakes may have been around
since Neolithic humans domesticated einkorn wheat, ground
it into flour mixed with bird's egg and goat's milk and poured
the batter on a heated rock.
It happened before there were pans and long before ovens.
The ancient cooks dropped a little gruel on a hot rock of
campfire, resulting in thin cakes that were tastier than plain
gruel or cakes cooked directly in the embers of the fire.
Perhaps because of this ancient lineage, pancakes are
associated with rituals in many countries: Shrove Tuesday,
Candlemas, and Chanukah to name a few.


Bisquick Original 1925 Pancake Recipe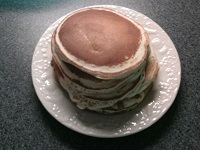 2 Cups Bisquick
1 1/2 Cups milk
2 eggs
2 Tablespoons melted butter (if desired)
Instructions:
Beat the eggs well with a rotary beater. Add milk and Bisquick.
Beat with the egg beater to mix batter very thoroughly. Mix in
the butter if a richer waffle/pancake is desired.
Drop by spoonfuls onto the hot greased griddle, When surface
of batter is full of bubbles, turn. Pancakes should be turned
only once.
After making these I wondered why I had ever bought pre-made
frozen pancakes from the grocery store. They were light and
fluffy, and much better than I had eaten before. I did, however
change the recipe slightly. I used 1 cup of milk, and a teaspoon
of vanilla, and no butter, though I may try the butter next time.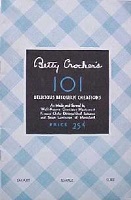 Fast and easy Flaky Pastry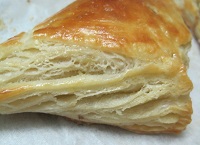 This is a really easy and fast recipe. Low cost ingredients,
delicious, light, crispy pastry, and definitely worth trying!
Ingredients:
3/4 cup butter (at room temperature)
1 3/4 cups Plain, All purpose flour (sieved)
pinch of salt
1/4-1/2 cup of cold water
2 tablespoons sugar (if you want it sweet)
Instructions:
Mix the flour and salt in a bowl. (add sugar if using)
Weigh out the butter and divide into 4 amounts.
Add one portion of the butter to the flour and using
a round bladed knife, incorporate the butter and flour,
while slowly adding enough cold water until the mixture
comes together to form an elastic dough.
Dust the rolling surface with flour, and turn the dough out.
Roll out the dough into a rectangle shape, and keep rolling,
adding more flour if necessary to stop from sticking,
until the dough is about 4 mm thickness.
Rub any excess flour from the surface and using the next
portion of butter, dot the butter (about 1 cm dots) on two
thirds of the rolled out pastry evenly.
Fold the pastry into three portions, bringing the end
without butter to the center, then folding down the other third.
Press together pastry edges with your fingers, give the
pastry half a turn and roll out lightly again until the pastry
is 4 mm thick (same size before you dotted with butter).
Repeat steps 5 - 7 twice more, then fold into three, cover
with plastic wrap and chill in the fridge for 30 minutes.
Bake at 450 F. Cooking time about about 8-10 minutes.
Note: Before placing in the oven, brush the TOP with milk.
Not the sides. This will prevent the pastry from rising.
Sprinkle some sugar, spices such as cinnamon, or
savory spices, like BBQ, or Italian seasoning, Cajun spices,
anything that you may like.

Authentic Mexican Hot Chocolate Cookies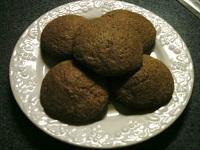 Ingredients:
2 1/4 cups all-purpose flour
1/2 cup unsweetened cocoa powder
2 teaspoons Baking Powder
1 teaspoon baking soda
1/2 teaspoon Salt
1 cup (2 sticks) Butter
1 3/4 cups Sugar
2 large Eggs
2 teaspoons Cinnamon
1/2 teaspoon Cayenne Pepper
Directions:
Preheat oven to 400 degrees. In one bowl, sift together flour, cocoa powder, baking powder, and salt. In a seperate bowl, beat butter and 1 1/2 cups sugar until light and fluffy. Add eggs and mix well, gradually add flour mixture and beat until combined.
In a small bowl, combine remaining 1/4 cup sugar, Cinnamon, and Cayenne Pepper. Using teaspoons, form small balls of dough and roll in cinnamon/sugar/pepper mixture. Place, about 2 inches apart, on foil lined baking sheets. Bake until cookies are set in center, about 10 minutes.
They will keep for about a week, if stored well.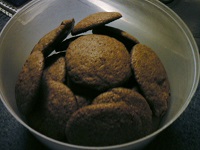 Authentic Mexican Wedding Cookies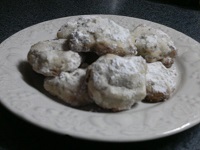 Ingredients:
1/2 cup/1 stick of Butter
2 tbsp. confectioners' Sugar
1/2 tsp. Vanilla
1 cup sifted Flour
1 cup finely ground Walnuts or Pecans
Instructions:
Preheat oven to 375°. Cream butter until fluffy. Add confectioners' sugar and vanilla, mix well. Gradually add in flour. Stir in nuts.
Shape dough into 1" balls, using about 1 tbsp. of dough for each. Place 1" apart on an ungreased cookie sheet and bake 15 minutes, turning sheet so that cookies bake lightly and evenly. Allow to cool, and roll in confectioners' sugar.
Note: I doubled this recipe to make a little over a dozen small cookies.


dddavids Interesting Facts and Recipes:

1800's TEA CAKE Cookie Recipe: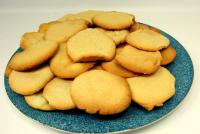 You will need:
1 stick (1/2 cup) butter, softened
1 cup granulated sugar
1/8 tsp. salt
2 large eggs
2 Tablespoons milk
1 tsp. baking powder
1 tsp. vanilla extract
3 cups plain flour, sifted

Preheat oven to 325 degrees. Using an electric mixer with the
large bowl, cream the butter and sugar: add the salt.
Beat in eggs one at a time; then add the milk, baking powder,
and vanilla.
Mix on medium speed until well blended.
Reduce the mixer speed to slowly begin adding the sifted flour
to form a soft dough.
Refrigerate the dough for 2 hours. Prepare a baking pan with
spray-oil and set aside.
After the refrigeration time, divide the dough into 3 pieces for
easier handling. Using a floured surface, roll the dough with a
floured rolling pin very thin; then cut out cookies with a cookie
cutter. Place the cookies on the prepared baking pan, and bake in
the preheated oven for about 10 minutes or until very light brown.
Watch the cookies carefully while baking, since they are thin and
some brown quicker than others. If needed, remove individual
cookies from the pan as they brown to prevent over or under cooking.
If you should to choose to frost or glaze them...
Lemon Confectioners Sugar Frosting
Ingredients:
1/4 cup butter
1 1/2 cup confectioners sugar
1 1/2 teaspoons milk or cream, about
1/2 teaspoon lemon extract or lemon juice
Instructions:
Soften butter. Sift sugar and gradually add sugar to butter,
creaming constantly. Add enough milk to make mixture the right
consistency for spreading. Add lemon extract or lemon juice to taste.
Makes enough to frost cupcakes or a square one-layer cake.

Or you could try the Lemon Glaze
Lemon Icing Glaze Recipe
This simple lemon icing recipe can be used for many baked goods,
such as cookies, cakes, sweet breads, and pastries.
Makes About 1/2 Cup Lemon Icing Glaze
Ingredients:
1 cup powdered sugar
1 tbsp fresh lemon juice
2 tsp grated lemon zest
1 tbsp milk
1 small drop food coloring, optional
Instructions:
Combine ingredients in a small bowl and stir until smooth.
These were loved by all who tasted them, and they
especially liked the idea that they were made from an
1800's recipe. With or without the icing they were a hit!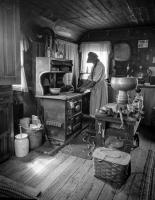 Cooking in the 1800's:
In the 1800's, people didn't have refrigerators, so their food would tend
to spoil quickly.
This means that they had to find a way to save their food from rotting and
bacteria.
The people in the 1800's used three basic ways of preservation.
Canning was the most common way of preserving the food. In this
process of preservation, food was crammed into glass jars.
Next they corked the jars so it was airtight. After that they boiled the
glass bottles to destroy bacteria that could cause spoilage.
Then it is cooled.
Next is cold storage. In the winter, people cut large blocks of
ice from a lake and put the blocks in an icehouse. The ice was covered
with sawdust and, or straw to slow down the melting rate. The ice would
last during the summer.
Another common way of preservation is smoking.
They smoked the meat in the heat of a smoky fire. Meat to be smoked
was cut and hung on wooden racks about a fire. Smoking did not just slow
preservation, it also added flavor.


For the Witch in you, Magical Food Tips:
When preparing foods for specific magical purposes, cook with purpose
and care. Keep your goal in mind, love, money, protection, health, fertility,
sex, strength, psychic awareness.
Always stir clockwise, clockwise motion is thought to be in harmony with the
apparent movement of the sun in the sky, and has been linked with life,
health and success.
Cut foods into shapes symbolic of your magical intention, such as hearts for
love a Pentagram for protection etc.
By contemplating the energy of love, money or protection, you can bring magic
into your kitchen each day.
Foods for Love:
For centuries witches have been using foods to create powerful magic, and love
magic is one of the most favored. The secret recipes and secret spices that have been used have always been a witches most closely guarded secret.
Witches spend many hours carefully crafting their love magic and using the secret
ingredients containing the energy of love.
Try this out:
Black Magic Cake


Ingredients:
1 3/4 cups All purpose flour; unbleached, sifted
2 cups Sugar
3/4 cup Baking Cocoa
2 teaspoons Baking soda
1 teaspoon Baking Powder
1 teaspoon Salt
2 large Eggs
1/2 cup Vegetable oil
1 cup Coffee; black, strong
1 cup Buttermilk
1 teaspoon Vanilla extract
Magical Cake Frosting:
1/4 cup Butter; or regular margarine
3 ounces Semisweet chocolate
1 large Egg
1 tablespoon Vanilla
1 tablespoon Lemon juice
1 cup Walnuts; chopped
2 cups Confectioners Sugar
Original recipe makes 16 Servings
Instructions:
Sift together flour, sugar, cocoa, baking soda, baking powder,
and salt in a mixing bowl. Add eggs, oil, coffee, buttermilk and
vanilla. Beat with an electric mixer set at medium speed for 3
minutes. Pour batter into greased 13x9 inch baking pan. Bake
in preheated 350 degree oven for 40 minutes or until the cake
tests done.
Cool in pan on rack. Frost with Magical Cake Frosting.
Cut into squares.
Magical Cake Frosting Instructions:
Combine butter and semisweet chocolate in a double boiler top.
Place over hot water, stirring until melted. Remove and cool well.
Add egg and stir vigorously. Add confectioners sugar, vanilla and
lemon juice. Beat until smooth. Add walnuts and frost cake with icing.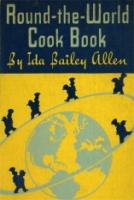 Butterscotch Pie
from the Round The World Cookbook-1934
1 pre baked pie crust
1 cup dark brown sugar
3 tablespoons butter
1 1/2 cups milk
1/2 tsp vanilla extract
2 eggs, separated
3 tbsp all purpose flour
2 tbsp powdered sugar
Heat a heavy fry pan over medium heat. Add the butter and brown sugar
and stir until the sugar is melted and a thick brown syrup is formed.
Add one cup of the milk into the pan, and the vanilla.
Beat the egg yolks lightly in a medium sized bowl, and combine with the
remaining milk and the flour until smooth.
Add to the mixture in the fry pan and stir over medium heat until thickened
and creamy.
Pour into cooled pie crust. Beat remaining egg whites with powdered sugar
until stiff and spoon decoratively over pie.
Bake in preheated 325 degree oven until meringue is browned, Serve cold.

Other Interesting Links

"History is Served" presented by Colonial Williamsburg

A contributory site for historical cooks to share their recipes and research

Medieval Recipes

Allrecipes - for recipes, cooking tips, and how-to food videos

Quality Family Recipes from Betty Crocker

In the 1930s, Clara Shenefelt Williams compiled the collection
of recipe cards that were discovered in an antique shop.
Read Clara's Story

Clara Project, A weekly cooking project inspired by vintage recipe cards.

Corn Flake Cookies
A collection of corn flake drop cookie recipes submitted,
reviewed and rated by the ifood.tv community.

Old Fashioned & Nostalgic Candy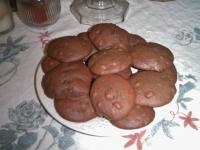 Here is one of Clara's 1930s Recipes from the link above.
Old Fashioned Chocolate Drop Cookies
(makes about 40 cookies)
Ingredients:
1/2 cup unsalted butter, softened at room temperature
1 1/2 cups lightly packed brown sugar
2 large eggs
1/2 cup milk
1 tsp. vanilla extract
2 cups all-purpose flour
1/2 cup unsweetened cocoa powder
1 1/2 tsp. baking powder
1/2 tsp. salt
1/4 tsp. baking soda
1 cup chopped toasted walnuts, pecans, almonds or peanuts
Instructions:
Preheat oven to 375 degrees F
Line two baking sheets with parchment paper.
In the bowl of a stand mixer (or in a large bowl using a hand mixer)
cream together the butter and brown sugar until well-blended and
fluffy, about 2 minutes.
Add the eggs and mix to combine; add milk and vanilla and stir.
In a separate bowl, sift or sieve together the flour, cocoa powder,
baking powder, salt and baking soda. Add the dry ingredients to
the mixer and slowly blend to combine.
Stir in chopped nuts.
Drop cookie dough by teaspoonfuls onto the paper-covered baking
sheets. Bake for 15 minutes.
Remove the cookies to a wire rack to cool.

Old Fashioned Banana Bread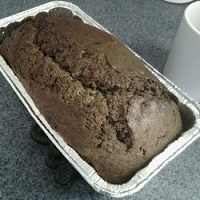 Ingredients:
2 cups all-purpose flour
1 teaspoon baking soda
1/4 teaspoon salt
1/2 cup butter
3/4 cup brown sugar
2 eggs, beaten
2 1/3 cups mashed overripe bananas
You can also add chocolate chips, walnuts, etc.
Directions:
Preheat oven to 350 degrees F. Lightly grease a 9x5 inch loaf pan.
In a large bowl, combine flour, baking soda and salt. In a separate
bowl, cream together butter and brown sugar. Stir in eggs and
mashed bananas until well blended. Stir banana mixture into flour
mixture; stir just to moisten. Pour batter into prepared loaf pan.
Bake in preheated oven for 60 to 65 minutes, until a toothpick
inserted into center of the loaf comes out clean. Let bread cool in
pan for 10 minutes, then turn out onto a wire rack.
Or you can try the following...

Old Fashioned Banana Bars




Ingredients:
1 1/2 cups all-purpose Flour
1/2 teaspoon Baking Soda
1/2 teaspoon Salt
1/4 cup Butter
1/2 cup Sugar
1 Egg
1/2 cup Milk
1 teaspoon Vanilla Extract
2 ripe Bananas
1 Cup of White Chocolate Chips
1 Can of White, or Cream Cheese Frosting
Instructions:
Preheat oven to 350 degrees. Grease a 9×13 inch baking pan.
Combine the flour, baking soda, and salt in medium bowl.
In a large bowl, cream together butter and sugar until smooth. Add egg. Stir in the milk and vanilla. Mix in the bananas. Add the dry ingredients to the wet and mix just until combined. Spread evenly into the prepared pan.
Bake for 20 minutes or until a toothpick inserted into the center comes out clean. Let bars cool completely before frosting.
These are truly wonderful. Be sure that you try them!