Here I have attempted to gather for you some of the most interesting,
bizarre, and unnatural stories from Earth and beyond!



Deer carcasses found dismembered,
disemboweled on side of New Franklin road/Ohio


Police in northeast Ohio have no leads in solving a Friday the 13th mystery involving the dumping of several dismembered deer carcasses alongside a road.
The Akron Beacon Journal reports the mutilated and disemboweled remains of at least three deer were discovered on the side of a road in New Franklin last Friday morning.
Police say the does were found wrapped in duct tape and they didn't appear to be killed for meat.
Investigators believe someone harvested organs from the animals before they were left on the side of the road. Lt. Ed Klein said the case doesn't look normal.
Police Lt. Ed Klein said on Monday that the department was notified about the gruesome scene at about 9 a.m. Friday, but investigators have no leads to resolve the mysterious incident.
"Somebody dumped them there," he said. "It doesn't look normal."
He said animal control was called to collect the carcasses.
The Ohio Division of Natural Resources Division of Wildlife has been notified.

Did a British School Boy Capture the Image
of a Scottish Regiment Soldier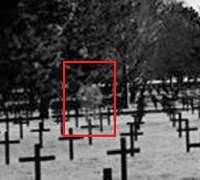 Weird News 25 June, 2014
Mitch Glover, 14, from Leamington Spa, along with his fellow
classmates were visiting the Neuville-St Vaast German war
cemetery near Arras, in northern France. He took a number of
photographs of the cemetery in quick succession. "Our school
tour was to look at war graves as we are studying poetry of the
First World War in literature and I am doing history," Mitch said.
"I didn't feel anything at the time, I just took it. I took it in a rush.
I snapped four as I knew I could just choose the best afterwards."
Not until after the school boy came home, did he notice the translucent
figure in one of his pictures, which he says looks like a man wearing the
uniform of a Scottish regiment. "It looks like there is someone stood there."
he said, "I thought it was like a ghost from World War One. A soldier."
His mother said, "We checked his other pictures, and it was just on that
one, just one. It's stood at ground level. Because it is the middle one of
the sequence, it takes away the idea that there must have been a splodge
on there...It didn't look like a German soldier. I thought it just looked out of
place. And then a friend of mine said, do you realize that looks a bit
Scottish, like World War outfits from the Seaforth Highlanders." After looking
into the history of the region, Mitch's family did agree that the shape of the
apparition could resemble that of the kilt and Tam o'Shanter uniform of the
historic Seaforth Highlander regiment.
The Seaforth Highlanders was a historic regiment of the British Army
associated with large areas of the northern Highlands of Scotland.
Neuville-St Vaast is the largest German cemetery in France, containing
44,833 burials, and is located a few hundred meters away from Nine Elms
military cemetery. Buried at Nine Elms are twelve N.C.O'S. and men of the
114th Seaforth Highlanders who fell on the 9th April, 1917.


A Strange Photo From Mars


Something in the Martian sky???
Weird News 1 May, 2014
Between April 27-28, 2014 NASA's Curiosity Rover took
a picture of itself. (Video Below) It is a beautiful picture of the rover, and the Martian Landscape,
but did the rover capture a little something extra?
There appears to be black dots up in the Martian sky.
We take a closer look at those photos.
Can you see them? Floating in the sky.
Now some people are talking. What do you think?
Are they extraterrestrial Spacecraft flying by?
Are they specks of dust on the camera lense?
The ET idea may not be that far fetched.
After all...
This is a photo of an ET craft on Martian soil.
In any case, it is a truly amazing photo of the rover, and Mars!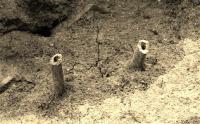 A Medieval 2/For for the Day!!! (Video Below)
First: 800 Year Old Monk Found on Cliff!
Weird News 29 April, 2014
The legs bones of an 800-year-old medieval monk have been
discovered, poking out of a cliff face in Wales.
They are badly damaged and missing their knees, shins and
feet, the thigh bones were found after recent storms caused
severe coastal erosion.
They were spotted by Mandy Ewington, who sent a photograph
to coastal archaeologist Karl-James Langford.
Mr Langford, 39, said "I thought she must have been mistaken but
I went down to see for myself and thought: "Bloody hell,this is amazing!
"You can clearly see a grave has been eroded into the sea.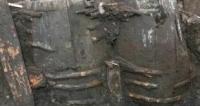 Second: Researchers Say 700-Year-Old Barrels of Medieval Feces
Still Stinks...
Weird News 29 April, 2014
Ther petrified human feces from the 14th century have revealed the
earliest evidence of an long and ongoing fight. Our intestinal bacteria,
were using antibiotics long before people developed drugs like penicillin.
The bacteria that live in your intestines are territorial. When new microbes
arrive, the others fight them off with antibiotics. The invaders respond by
developing immunity to these compounds. So the native bacteria, known
as the microbiome, develop ever stronger antibiotics. This has thought to
have been going on in the human intestine for eons, but scientists have
had little evidence of its history.
After a surprising find in Namur, Belgium. An urban development project
there unearthed a historic find. Human excrement dating to 1996.
Excavation under a town square revealed latrines from the Middle Ages
buried 4 meters deep. Each held sealed barrels of human waste that had
not seen the light of day in 700 years.
A broader diversity of antibiotic resistance genes were observed in the samples.
"It was surprising that the ancient stool had more (antibiotic resistance) genes
than modern stool samples," says Jeremy Barr, a microbiologist at San Diego
State University in California who was not involved with the study. If this specimen
is representative of the time period, then the reduction in these genes over time
may reflect that modern sanitation in food or water supplies have weakened the
defenses of gut bacteria, Barr says.
"Preliminary results of analysis show that raspberries were popular in Odense in
the 1300s. The contents also contain small pieces of moss, leather and fabric
which were used as toilet paper," archeologist Maria Elisabeth Lauridsen said.
The buried latrines are said to have kept their contents in "excellent condition".
That is to say...they smell really bad.




The Cliven Bundy Ranch Update
Weird News 24 April, 2014
For your Cliven Bundy Ranch Update we have
Cliven Bundy informing the public on Saturday April 12, the
Bureau of Land Management agreed to cease the roundup
of his family's cattle.
This of course, they did for the safety of the people (some armed)
who showed up in support of Mr. Bundy.
For more than a week after federal land managers ceased a
controversial cattle round-up, armed militia members continue
to guard the Bundy Ranch.
These militia members had traveled to the ranch near Mesquite,
Nevada, earlier this month to join other Bundy supporters.
The militia members say their job now is to guard the Bundy family
and property.
The men are perched on the hillsides around the property to survey
the land 24 hours a day.
Militia members also told KLAS News that they suspect federal agents
may be posing as militia members in order to gather information about
the group and possibly conduct a raid.
"The people that are up there, they have a certain look about them.
These are military; my belief is federal agents," said Frank Lindysth,
a former Bundy guard. "They're dirty. They're dirty."
It doesn't sound like it will be long before they begin to turn on one
another.
It has been said that this type of person can also be a bit paranoid
to say the least.
It will be very interesting to see how this all turns out.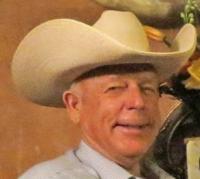 Cliven Bundy VS the Bureau of Land Management
Weird News 22 April, 2014
Standoff: Cliven Bundy VS the Bureau of Land Management
Today we have for you the case of a Nevada rancher Cliven
Bundy, and the potentially very dangerous standoff. Mr. Bundy,
has been in the news for over a week because federal Bureau
of Land Management agents seized his cattle to settle the more
than $1 million in unpaid fines since that have been accumulating
since 1993. Yes, 1 million dollars...
The Federal Bureau of Land Management agents had shown up,
but so had many campers (some armed) to help guard Bundy's
melon farm and cattle ranch more than a week after a tense standoff
between gun-toting states rights advocates and Bureau of Land
Management police over a roundup of Bundy's cattle from public land.
As it stands the Bureau of Land Management police have left...
For now...
It is true that Mr. Bundy claims ancestral rights to the land, but KLAS
News in Las Vegas obtained property records showing that Bundy's
parents purchased the family's ranch in 1948. The Bunkerville, Nevada
ranch has been the site of a tense standoff with the federal government
over Bundy's use of land managed by the Bureau of Land Management.
Those records appear to contradict Bundy's own history of the ranch,
as well as his biography.
"I've lived my lifetime here. My forefathers have been up and down the
Virgin Valley here ever since 1877. All these rights that I claim, have been
created through pre-emptive rights and beneficial use of the forage
and the water and the access and range improvements," Bundy told KLAS
before the government's round up began.
The court records obtained by KLAS indicated the family's cattle didn't begin
grazing the land until 1954. The Bureau of Land Management was created in
1946 (the same year Cliven Bundy was born.)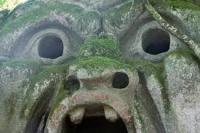 Park of the Monsters
Weird News 13 April, 2014
dddavids Ghost Cams, Weird News present another true tale. This time it's a place.
Park of the Monsters
Bomarzo is a town and comune of the province of Viterbo (Lazio, central Italy), in the lower valley of the Tiber.
It is located 14.5 km ENE of Viterbo and 68 km NNW of Rome.
It is the Orsini family's hereditary fief. The Castle rises at the edge of this small town.
The Park of the Monsters just outside the city of Bomarzo is a Late Renaissance manieristic garden gallery of sculptures and architecture. Commissioned in the 16th century by Vicino Orsini. It includes also a palace, designed by Baldassarre Peruzzi.
The garden with grotesque stone sculptures of monstrous proportions, depicting mythological personalities and creatures taken from classical fables: Pergasus, Hercules, Neptune, Cera.
Prince Pier Francesco Orsini built the villa in 1552. Mourning the death of his wife, Giulia Farnese. He erected a temple and statuary in her honor on the grounds.
After Vicino Orsini's death nobody cared any longer for this jewel of mannerist art.
After centuries of oblivion has been saved and restored for the joy of intellectuals, men of letters, artists and tourists that come from all over the world to admire this splendid garden.
A visit to the park will unfold in a series of stages ranging between mythology and fantasy.




The "Haunt"-ed Morello House...(see Video below)
Weird News 10 April, 2014
Hollywood has long been known for putting out terrifyingly true ghost stories. Many of those Para-normally based stories such as Insidious and Conjuring, became top box office hits.
Next up is "The Haunt". Another true paranormal tale about The Asher family who moves into their dream home. Only to find that it is cursed. Blamed for having caused the deaths of the previous family that occupied it, leaving only the mother as the lone survivor. As we begin, the family's 18-year-old son along with his new neighbor accidentally awaken something in the house, and so goes the tale. The new tenants are about to discover the true story. And they might not live long enough to tell the tale.
The Haunt is loosely based on the paranormal case study on the Morello House.
Within the Morello family four people died in the house, all around in 1984. Mathew Morello, the teenage son, died in a crash soon after receiving a new car for his 16th birthday. The youngest daughter drowned in the family pool. The death was not investigated and was ruled an accident. The oldest child, a teenage daughter, hung herself immediately after the death of her siblings. The death was investigated, and was ruled a suicide. Franklin Morello, the father, died the following week. His death was the most obscure of them all, it was believed that he suffered a nervous breakdown after the tragedies of his children. Angela Morello is believed to still be alive, and living within the same general area. Searching through the local newspapers, there was one reference to her appearing at a friend's funeral in 1994, but other than that, nothing.
A realtor in the area was quoted as saying, "More likely than not, no one will ever live here again." Over time, the Morello House has loomed ever darker, as a source of mystery, fear, sadness, and death. It has been thought that this type of house is an example of an "attractor" -- a place most likely to be haunted.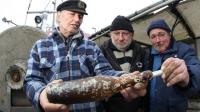 Message in a Bottle Finally Arrives 101 Years Later...
Weird News 08 April, 2014
A message placed in a bottle that was thrown into the ocean in 1913 was recently found by a fisherman off the coast of Germany and returned to the sender's granddaughter.
"It was very surprising," said Angela Erdmann, 62, to The Guardian. "A man stood in front of my door and told me he had post from my grandfather. He then told me that a message in a bottle was found and that the name that was on the card was that of my grandfather."
The message, found last month by fisherman Konrad Fischer, is largely indecipherable. However, the name and address of the sender - Richard Platz - is still legible, as is his request that the message be forwarded back to him.
Platz wrote the postcard, thought to be the oldest message in a bottle in the world, when he was just 20 years old.
Erdmann never knew Platz, who died at age 54. But she had heard plenty of stories about the man from her mother, his daughter.
"I knew very little about my grandfather, but I found out that he was a writer who was very open minded, believed in freedom and that everyone should respect each other," she said. "He did a lot for the young and later traveled with his wife and two daughters. It was wonderful because I could see where my roots came from."
The postcard will be on display in a German museum.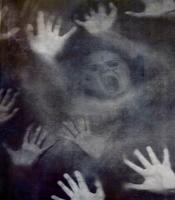 Ghost app leaves woman scared sick
Weird News 07 April, 2014
A 23-year-old woman from Wuhan, Central China's Hubei Province, recently sought psychiatric help after a smart phone app called the "ghost detector" gave her a very real scare over Tomb-Sweeping day.
The woman, surnamed Wu, claimed to have detected three spirits, an experience that has left her haunted by hallucinations and bouts of insomnia.
The popular app, which scans the area using the phone's video camera, displays a blob-like image in the supposed presence of a ghost.
Hu Honghui, a chief psychiatrist at Hankou Hospital, diagnosed Wu as suffering from phasmophobia, or deep-rooted fear of ghosts. :)
Hu traces Wu's fear back to events in her childhood, including participating in her aunt's funeral and her parents using ghost stories to scare her into behaving. :)
The app comes with an explicit disclaimer saying it was designed for entertainment purposes only.
Many users have warned that those with a strong belief in ghosts should not use such apps, still others suggested that the developer should make the disclaimer more visible.
"Some people really believe in ghosts and the app developer could get in trouble if something serious occurs," said Rentian.
Some also called on parents not to use ghost stories in order to teach children to behave.
"Such trauma could last a lifetime," Madopo wrote on ifeng.com.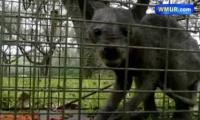 Texas couple claim they have caught a live chupacabra!
Weird News 07 April, 2014
A family in Texas claim to have captured a live chupacabra, a mythical creature with a reputation for sucking
blood from livestock across America.
The tale began when Jackie Stock and her husband Bubba discovered a growling, hairless animal in their garden.
Bubba captured the animal and locked it in a cage to allow friends and neighbours to take a look at it although the
couple insist they are feeding it and giving it water.
"We were just trying to figure out what it is because we've never seen anything like it before," Jackie told WMUR.
(Manchester, New Hampshire News>
"He (Bubba) called me to come and look, and I said "Bubba that looks like a baby chupacabra."
Neighbor Arlen Parma is convinced the animal is a chupacabra. "I hunted racoons for 20 years with dogs and I ain't
ever seen anything that looks like that right there." Parma said.
A wildlife expert told the network the animal was more likely to be a dog, fox or coyote with mange.
Descriptions of chupacabra sightings have varied, but many who claim to have seen the cryptid (From Greek kruptos,
hidden, from kruptein, to hide) say it closely resembles a coyote but with a skinny body covered in matted patches
of hair.
The first Chupacabra sightings were reported in Puerto Rico as early as 1995.
In February another Texas family claimed to have caught and killed a chupacabra, although local wildlife experts were
not convinced.
UPDATE:A couple in Ratcliffe, Texas who captured what they believed was a living chupacabra has had the
creature euthanized. :(
On Friday, the couple made the decision to have a local animal shelter put annimal to rest after a DeWitt County game
warden said the animal appeared to have scabies, a contagious disease.



A NASA camera on Mars has captured what appears to be artificial light emanating outward from the planet's surface.
Weird News 07 April, 2014
The photo, beamed millions of miles from Mars to the Jet Propulsion Laboratory in Pasadena, Calif., was taken
last week, apparently by one of two NASA rovers on the red planet.
Although the space agency hasn't issued any official statement yet about the phenomenon, bloggers and NASA
enthusiasts have started chiming in.
Scott C. Waring, who maintains the website UFO Sightings Daily, posted the photo April 6.
Waring noted that the light shines upward, as if from the ground, and is very flat across the bottom.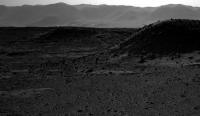 Notice how the spot of light moves in the photos.




Weird News 1
Also try out:
dddavids Recipes


Weird News Interesting Facts:





A moon landing is the arrival of a spacecraft on the surface of the Moon. This includes both manned and unmanned (robotic) missions. The first human-made object to reach the surface of the Moon was the Soviet Union's Luna 2 mission, on 13 September 1959.

The United States' Apollo 11 was the first manned mission to
land on the Moon, on 20 July 1969. There have been six
manned U.S. landings (between 1969 and 1972) and
numerous unmanned landings, with no soft landings
happening from 1976 until 14 December 2013.


HAARP:
The High Frequency Active Auroral Research Program (HAARP)
is an ionospheric research program jointly funded by the U.S. Air
Force, the U.S. Navy, the University of Alaska, and the Defense
Advanced Research Projects Agency (DARPA). Designed and
built by BAE Advanced Technologies (BAEAT), its purpose is to
analyze the ionosphere and investigate the potential for developing
ionospheric enhancement technology for radio communications and
surveillance. The HAARP program operates a major sub-arctic facility,
named the HAARP Research Station, on an Air Force owned site
near Gakona, Alaska.
The most prominent instrument at the HAARP Station is the Ionospheric
Research Instrument (IRI), a high-power radio frequency transmitter
facility operating in the high frequency (HF) band. The IRI is used to
temporarily excite a limited area of the Ionosphere. Other instruments,
such as a VHF and a UHF radar, a fluxgate magnetometer, a digisonde
(an ionospheric sounding device), and an induction magnetometer, are
used to study the physical processes that occur in the excited region.
Work on the HAARP Station began in 1993. The current working IRI was
completed in 2007, and its prime contractor was BAE Systems Advanced
Technologies. As of 2008, HAARP had incurred around $250 million in
tax-funded construction and operating costs. It was reported to be
temporarily shut down in May 2013, awaiting a change of contractors.
HAARP is a target of conspiracy theorists, who claim that it is capable of
modifying weather, disabling satellites and exerting mind control over people,
and that it is being used as a weapon against terrorists. Such theorists have
blamed the program for causing earthquakes, droughts, storms and floods,
diseases such as Gulf War Syndrome and Chronic Fatigue Syndrome, the
1996 crash of TWA Flight 800, and the 2003 destruction of the space shuttle
Columbia. Commentators and scientists say that proponents of these theories
are "uninformed", as most theories put forward fall well outside the abilities of
the facility and often outside the scope of natural science.
Other Interesting Links
Strange but true Stories from the Huffington Post
Bloody Disgusting! Source For All Things Horror
Weird stuff and Strange things of our world
Quirky stories from ScienceDaily's Space & Time, Matter & Energy, and Computers & Math sections
A to Z of the unexplained, paranormal phenomena