dddavid...a blog of everyday life.



Previous Years

Two of the most current videos from the 2 of the YouTube Channels
Everyday YouTube Vlog Channel.
Arts and Crafts YouTube Channel
PLEASE SUBSCRIBE TO THE YOUTUBE CHANNELS, I need all the people I can get! Really!!!

24 March 2022
Are you keeping up with all of the latest, and latest creations posted? A lot has been going on, and up this year. Don't be left out!
Arts and Crafts YouTube Channel HERE
The latest in everyday home life.
Everyday Happenings YouTube Channel HERE

27 December 2020
I am very sad to say that Wesley passed away on Friday December 25, around 10:30 p.m.
I thought we were slowly going in a better direction, but it was not to be. He, and I tried very hard to get him back to normal, and he put up with a lot, but something inside burst, and the end came. He had just eaten, gone outside to the bathroom, and come back in. It happened very quickly. I don't think the vet had even been aware of that (some type of blood leakage), but as I had said, she didn't think he could take much invasive treatment given his age, so we were left to do our best, on our own. I miss him very much. He was always funny, even when he was getting into trouble, which was often. He would just look at me, and wiggle his butt, and go on his merry way. Hopefully, one day I will get to see him again, and the others who went before him as well. He was 12 years, and 7 months old.




22 December 2020
I had been thinking, up until about a month ago, that 2020 was not going to be all that bad for me, but it is not turning out to be that way.
Those of you who have been following this section of the website will know that my constant companion, and helper Wesley, the Boston Terrier, has been here in the house since being rescued in March of 2009, at the age of 9 months. Where does the time go?
Wesley is now 12, and will be 13 in May of 2021, but he is having some very bad health problems now. I have had him to the vet several times for various ailments lately, and this current one has him eating liquid food from a syringe, because he does not want to open his mouth to chew, and his jaw muscles have weakened to a point of being very noticeable on top of his skull. It could be from being on prednisone, or Masticatory muscle myositis. There is treatment for the latter, but the vet cannot do the test because of his age, so I am left with trying to either get him back in good health by syringe feeding him, and giving him antibiotics (if it is from an infection), or just waiting until he has lost so much weight that he can no longer go on. It is very sad considering up until a few weeks ago we were still taking walks, and having fun.
Personally I would like to think I can nurse him back to health, but I always think I can do anything. It is going to be very difficult to get his weight back up, and all I have to help with strengthening his jaw muscles is a hand massager, with heat, and vibration, that I am currently hoping will stimulate the muscles enough that they repair themselves, and he will eat on his own again. It's a very sad time.

06 January 2020
Started the New Year out by cleaning, and discarding old things. Sometimes you just forget to throw away things you no longer use, and it ends up taking up needed space, or you are finally ready to just let it go.
I also gave many clothing items, I didn't need, or never used, to a charity. I actually was running out of space for the clothes that I do use. This year has begun as a new beginning, at least as far as the house is concerned. It's always good to do a de-cluttering. I have also put up a new "Craft Video" on that crafty YouTube Channel , if you could check that out.

03 September 2019
WOW! Most of the year is almost gone!!! It has been a very busy one, work wise. Lots of improvements outside in the gardens, and a few extra new projects have kept my free time limited, but I like it that way.
Since we are now entering the fall of the year I have put together a few videos to show you the decorating changes in the house for the season. The Porch is all finished, and now the fireplace mantel in the living room. So, if you could...give the videos a look, and "like" and "subscribe" to the YouTube Channel if you have not. I am lacking very much in YouTubes quota for subscribers, so that's important.



19 February 2019
I had an Island in the kitchen at one time, and traded it for a table, because at the time that is what I wanted, but lately I had thought about going back. I began looking online at kitchen Islands that would be fitting with the house, and was a little disappointed with the high price of the ones that I liked, so I decided to make one. It really is not as difficult as you would think, and you end up with something that is unique to your home. The total cost was under $100.00, and could be a little more, or less depending what supplies you have at home. Take a look at the video, and let me know what you think on Youtube.





16 January 2019
Time to start thinking about the Valentine's Day decorations that will be used in the Old Haunted House this year. I always try to add something new to the mix, and I think I have come up with a few nice, and very inexpensive things that you yourself may even wish to try out for your home. I know you may think it's too early to think about Valentine's Day, but when you are crafting these things, you have to start early.





03 December 2018
Welcome to this year's Christmas Home Tour of a Real Haunted House. Hoping to Make your Holiday Season Merry and Brite! Several of the pieces you will see are handmade by myself. I find that it is cheaper, and more personal that way, and it helps bring out that creative side in me.



14 October 2018
This month is just flying by. So very busy preparing for Halloween, and all of the little goblins. Finishing up projects, and maintenance on the outside before the cold arrives, painting etc.
I did do a few more Halloween crafts, and here is one you may like. I think this Haunting Spirit (Fabric Ghost) turned out very well, and after that we have the Ghostly Trio Primitives that were very quick to make.
You may just wish to try these yourself.



05 October 2018
It has been a very busy year, and hopefully you have been keeping up with the work on the You Tube Channel because I have not had the time to go online and remind you of the projects. Much time has been devoted to the gardens. I have decided to drain the pond, and make it into a dry creek bed. The mosquitoes have been very bad this year, and the algae has been mounting, so hopefully this will make things better. Also there has been much work dedicated to the fall season, and you can see that in these 3 videos. If you haven't already, Please Subscribe to the You Tube Channels, it would help a-lot! You can always find fresh ideas, or an interesting story. Check them out below.

Haunting Tales from the Everyday You Tube Channel.



Crafty Ideas, and a house Tour from the Life/Decorating Channel. These are ways to help you decorate the house, and not spend a lot of money.





A couple of Videos for your viewing pleasure.





22 March 2018
So far this is turning out to be a productive year. I had wanted to do several projects, and I have managed to do those. First I needed to decide which direction I needed the two YouTube Channels to go in, and I think I have it narrowed down to things interesting to those groups. Second I needed to build an audience fitting the channels, which I am still in the process of doing. That part takes a little more time. You can check the two YouTube Channels out HERE and HERE, and if you find them interesting, please hit that Red Subscribe Button. I still have a long way to go before I meet the new YouTube quota for Subscribers.



02 March, 2018
I started off the year with changing the look of my bedroom. I livened it up a bit in a French country kind of way. Nothing too drastic, blue on the bottom half of the wall instead of green, and new curtains. I also added a new rug, and pillow covers to the existing pillows. I topped it off with a new couch cover in neutral. I am pretty satisfied with the look, though I don't know if I am finished yet.
Bedroom Before:


Bedroom After:


In the photo below you can get a better idea of the new colors that are in the redecorated room now.


05 January 2018
How can a year fly by that fast??? I guess there has really been a lot going on, and it seems like not much from a day to day stand point. Now I have to try and remember the highlights from last year.
I paid off the house in July after 13 years. I had been paying a little extra every month to shorten the time of the loan. I guess that worked out well. I also received an award for the yard in August. It was 2nd place, but for the entire town I thought it was pretty good. It was not expected, but I was glad to see there were people who appreciated what it was that I was doing. Much like the house, the grounds are not something you would find around this area.
Halloween was awesome as always, and this year those who stopped by the website were treated to a much better functioning camera. The same can be said for the Christmas Countdown page...faster uploading times.
Now we are into the first part of 2018, and eagerly awaiting what the future may bring. I think those healing crystals are working! I think they are also good for keeping away negativity, and so on.



29 May 2017
It is turning out to be an interesting year so far. not the best, but interesting. A little more expensive, and painful (for me and the dog) than usual, but first a little about other, happier things.
Again I have put in a Moon Garden. I actually began it in 2015, and have been adding to it slowly as I find more plants, and objects to place into it. This year the rain has been good to us, so the watering has been minimal (not so the weeding). Still, I am very pleased with how it is coming along.
I have also been very busy keeping up with the trimming of the bushes in the gardens. Both the one at home, and the one I have behind my downtown building. In addition to those I also trim the bushes at another location, which is why my back hurts a little more than normal this year. Either there is more trimming going on (which is probably the case), or there are more bushes... Much use of the weed eater this year as well.
Wesley, the little Boston Terrier hurt his back this year as well, but a little more than mine. He did the same 2 years ago, and after 3 months on medicine I found out about cold laser therapy for dogs. He was back to normal after 6 treatments, and off his medicine. This time (he is 2 years older) he got a 10 pack treatment, along with his medicine, but he kept re-injuring it, and he seemed to be always in pain. Then one day I read about the Healing Power of Crystals, and I ordered a few online that I thought would help, but in the meantime (that day) I gathered the 3 crystals that I knew I had in the house, and placed them under his bed. Since that day he has not re injured himself, and has become himself again. I have reduced his medicine, and hope he will be off it all together in a week. He did not have to use the back brace that arrived a few days later, which I was sure he would have to. I was truly amazed, and that is why I added the Healing Crystal page to this website. Maybe it was the Crystals, and maybe it was just the faith, but I know that Wesley's healing is real, and he does too. In addition to these Crystals I had placed Wesley's dog tag next to a little wooden cross that was given to me in a frame, and currently have Saint Francis as my background screen on the computer. The hardest part now is keeping Wesley from doing too much. On the bright side (for Wesley) he will be getting his very own dog sofa out of all of this.



18 April 2017
Spring has sprung, and it has seemed to have done it early. I don't know if you have noticed. but I have been bust in the planting beds, weeding, and planting, and transplanting for the new year. If I hadn't seen enough proof of the changing weather patterns already, a few days ago I saw 2 June bugs...in April!
This year, again, I will be adding more drought tolerant perennials. I don't like spending so much time watering things when I could be working on something else.
This year, as in the past 2 years I will be creating a Moon Garden in the back of the property. It seems to get a little bigger, and better every year so I will be building on that. Besides the fact that it does look good at night.

08 January 2017
I am starting off the New Year with a slight change in the kitchen project. Paint is the easiest way to create a different mood in your environment, and also the least expensive.
I had seen a kitchen similar to mine online that had the same color of cabinets, and the walls were in blue, and it looked very nice.
Always looking for something constructive to do, I thought this would be a good way to start off the New Year. Let's get to it!


30 Noveber 2016
What a busy year this has been. I did have a plan of sorts to get a lot done in and around the house that was in need of attention, and I am happy to say that I managed to do much of it. From painting the house, fixing the window trim after a hail storm. Tuck pointing some of the basement. I repaired my dryer downstairs, and I will be working on the washer upstairs very soon.
Now we are on to the Christmas decorating, and I have done (and will do) a couple of videos for you if you would like to see what I have accomplished in that category. This years Christmas theme outside, and in a couple of the rooms inside, is a "Primitive Christmas". Primitive items are easy, and quick to do, and you can't really mess them up because as the name infers...they are primitive. Take a look at the videos below to see what I mean.


13 July 2016
I cannot believe that we are already more than half way
through another year! Wow!!!
I guess I have been doing a lot of things. Lately it seems
as if a plague had descended upon the house. First it was
baby raccoons, and ground hogs getting into the backyard,
digging up the plants. Then tiny little ants, roaches, and
beetles were seen in the house. EEEEK!
I think I have brought an end to all of those infestations.
The raccoons have been the worst to get rid of, but I
bought a Electronic Animal Repeller that is suppose to emit
a sound that they do not like... I just set it up today, so we will
see how that works.
I have also been working on the bathroom upstairs.
Painting, bead-board paneling, tile, and new trim.
I am going for an old Victorian look, of course. As
you can see below, it has brightened it up a little.
Before


After


01 December 2015
Here we are, already at the end of another year. This past
month (November) has been spent getting ready for Christmas.
The decorating, and the lights take a long time, but I do believe
that I am ready. please check out the videos to see for yourself.



11 November 2015
So many things to think about. So many things to work on.
Yes, I have been creating a slew of different pages for the
various aspects of my personality. Finding new things that
I like for the davidslifestuff Youtube channel
HERE
Going back in time to a simpler place on a new Youtube Channel
HERE,
and a new Blogger page
HERE
They are taking up much of my time as of late, but I do hope that
you will visit them, and I really hope that you will enjoy them as
much as I do.
These things are very much fun to create, and think about.

3 November 2015
I an currently working on a few projects in, or outside of
the house, and I made them into videos that I thought you
may like. It is good to have something to do all the time,
but it does make the time fly by as well. Here we are near
the end of another year already. Enjoy the videos, and
"like" them if you can. The second one is actually the
first in a series that you can follow along with this month.


31 August 2015
I can tell you one thing for sure...it has been a busy year.
You can tell this because I have not said anything on this
page since day 1 in January, but I will try to remember what
it is that I have done since that time.
First off, I starter the year by finally restoring one of the bedrooms
upstairs that I had wanted to do for a long time. I have mentioned
before that when I bought the house it had been separated into 2
apartments, one on the first floor, and one on the second. Well this
second floor bedroom had been made into a kitchen, and I have
been changing it back over the last few years. As you can see by
the photos, it had a long way to go before it got to where it is today.
It wasn't a difficult thing to do. It just took a little time, but it does
show you that you really can change your environment if you put
your mind to it. Getting started is always the hardest part.
Below you can see those changes that this room has gone through
to get it back to where it should be.
Before


During


After


I thought it turned out well, and is definitely more in fitting with the
house. Imagine how unhappy that bedroom was with a kitchen in
it all those rental years.

I also created a Moon Garden this year. A Moon Garden is very
easy to achieve. What you do is plant white, or lighter colored
flowers, and plants that will reflect the light of the Moon.
It makes the garden a more inviting place to be at night.
It also gives off an air of tranquility, and peacefulness.

"Night time is really the best time to work.
All the ideas are there to be yours
because everyone else is asleep.
~Catherine O'Hara
"There is something haunting
in the light of the moon;
it has all the dispassionateness
of a disembodied soul,
and something of its inconceivable mystery.
~Joseph Conrad

You can read about how to go about creating
your own Moon Garden
HERE
I also started 3 new Blogs on Blogger!!!
The first is "The everyday blog of David from dddavids Ghost Cams"
Next is "Hauntingly Good and Vintage Recipes from Long Ago"
The third is "Easy Inexpensive Decorating Ideas, on a Budget"
The Links to those are listed below.
Please take a little time to check them out.

1 January 2015
Let's start the year off right!
It's the first day of the New Year, and anything is possible,
but so it is on the second day, and the third as well.
That's the best part about change... If you need it, it
can happen any day! It's never too late.



Update: 30 December 2014
This turned out to be a very fast moving, and extremely busy year, and it's ending that way as well. I finished up this last month of the year by adding some gingerbread trim to the kitchen cabinets. I am sure they had it at one time, and someone over the years had decided it had gone out of style. I still have the side pieces to do, but I like it so far.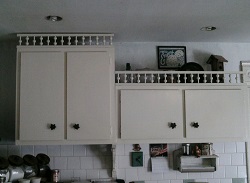 I also re-did much of the website, though it may not be as easy for you to tell. All of the web cameras are now operating differently than they were at the beginning of the year. Now they are clearer, and much more reliable than in the past. It wasn't easy, but I like it much better this way.
This year I also added new sections to the website, such at the mostly Vintage Recipes Pages, and the very popular Countdown to Halloween, and Countdown to Christmas pages. As well as the DIY Pages which I sometimes forget to add projects to... I will have to work on that for the new year. All of these things are designed to keep you engaged, and excited about the site, and hopefully sharing it with your friends. Not that Wesley is not entertaining enough to keep you coming back. Speaking of that crazy little Boston Terrier, we will end out the year of 2014 with a special video of his made just last night.

17 September 2014
Autumn in in the air, and thoughts are turning to Fall and Halloween, and the decorating that goes along with it. I have made a fun Countdown to Halloween Page HERE, and don't forget those Fall Recipes HERE for those cozy fall nights.
12 September 2014
The fall decorating of the house has begun. Not Halloween yet...just Fall things are being put out to ease into the mood.
19 August 2014
Thought of the day... To get your life in order, you first must get your house, aka living space in order. Cleaning, de-cluttering, and cleansing by way of candles (my favorite), or sage smudge sticks. Whatever your option may be, but it must start there first. I try to do this as frequently as possible. It seems to work for me most of the time.
Keeping busy is another positive thing you can do for yourself. Weather that be cleaning up your environment of dirt, trash, or unhappiness. There is always something that needs doing. There is a reason for the saying "idle hands are the devil's workshop"
30 April 2014
What a busy month April was... Working in the yard, working in the house, redesigning the website, and beginning the Weird News segment on the website as well as matching videos in the Everyday Vlog on YouTube. Yes, it seems like I have gotten a-lot done. I think the front page of the website still needs work, meaning that I am now quite satisfied with it's look, but all of the other things turned out well. So that's a good thing.
Last year little Wesley had begun having trouble with his back legs. Early arthritis, and the knees popping in and out of socket, and I thought he was going to need surgery to fix it, bit with his vet visit they said that if he lost weight he would be much better, so we will try that first. I didn't think he ate all that much, and just a tiny bit of "people" food every now and then, but he had gained more weight. I guess now we will both diet. It had been just me, which I am currently do ing well with, so not it will be both of us. He will not be happy about it, though...
Update: 16 April 2014
Painting a Victorian Wall Mural in the Bathroom.
I began, and finished a Mural painting project in the upstairs bathroom over the last couple of days. It didn't start out as a mural. It was actually suppose to be a wall of copper tiles above the bathroom sink, but all except the bottom 2 rows kept falling off the wall... Then came the inspiration... A wall Mural, yes I could do that, and so I did.


I think it turned out pretty good, and it's much better than listening to the copper tiles fall and hit the floor in the middle of the night! :)
You can see a video of it HERE.
27 January 2014
This month is just flying by! I have been very busy with both YouTube channels, and just things to take care of in everyday life as well. I have been trying to build an audience for the Everyday Channel for those who enjoy seeing quirky stuff, and continuing to get the paranormal lovers more involved in the Ghost Cam Channel. If you could take a minute to subscribe to one, or both that would be nice, and if you could share them...even better. It actually is a-lot of time consuming work, and for some reason YouTube loves to flag my uploads as "Copyright Violations", even though all of my things are original... Like those posted above.
It usually takes a few days before they finally review it for real, I guess that means that they really watch it, instead of relying of "Buzz Words" to flag it. What ever it is, it can be annoying, and time consuming. I guess as long as everything turns out o.k. in the end it's bearable. Stay tuned!
Your Zen picture for the day....stay positive!


06 January 2014
Let 2014 be the year of sharing positive thoughts, and attitudes on the internet, and in life!
I'm sure that like me, you have found that not only in everyday life, but also in social sites on the internet there are places increasing filled with those who would complain, attack, and otherwise create a poison environment. What I have decided to do this year is keep a better outlook in life, and especially on the social networks in hopes that it will spread. The alternative didn't seem like a viable uplifting way to live ones life. I hope that you will join me in this endeavor, and see what it can do for you, and those whom you have chosen to share your life with.
Will is always be easy...No. Will it be worth it...Definitely! Here's to a wondrously productive 2014!!! Lead the charge!


Update: 30 December 2013
We are now coming to an end of what was actually a pretty good year for me, as I hope it was for you as well. So much has happened in the world that is is easy to get caught up in very negative thinking if you let it in, but you must believe there is vastly more good out there than evil. It's just not as good at getting publicity as the less deserving bad behavior. That is what I was thinking when I made this video for me, for you, and for those I hope you will share it with who may just need a positive thought in their day. We can all do better if we keep a positive outlook on life. Have a good one and enjoy the video, and Happy New Year!

11 December 2013
I can't believe that it is the end of the year already. They go by so fast anymore, though in all I think it has been a good year. The house is doing well, the dog and I are doing well, the website is doing well. All in all I liked the year. I could always get more done, but that is what we have next year for. Remember, as I have said before, it's good have a project ready to start after the Christmas Season ends to avoid the winter blahs.
Paranormally speaking the noises, and shadows, and movements continue...maybe even more so this festive time of year. The ghost of Christmas past like to see the house all decorated again, I think, and speaking of an old Victorian House decorated for Christmas I made this first video of the house for this year. It does change from year to year, if you have seen a previous one. The second video is "How to make a Snowman Christmas Tree", and is at least entertaining. I hope you enjoy it, and don't forget to subscribe to the channel to keep updated on the coming videos!



I hope your year is going just as well, and Joyeux NoŽl to you and yours this Festive Holiday Season.
08 November 2013
Busy, busy, busy... It may seem early, but I have begun to string lights outside for the Christmas Season. The last I heard is that the house will again be on a Christmas tour for the Holidays...outside only, and it's coming up fast so work has to begin now, and especially before it gets too cold to do it.
This year I have decided to be as vintage Victorian as I can while keeping it fairly festive. You know that the Victorians wouldn't have had lights outside, but you have to create a balance... People wouldn't be very impressed seeing a big dark house with some greenery.
I have also began to get into the mood with a couple of videos on the every day You Tube channel (subscribe if you haven't). These two videos are filled with vintage christmas scenes form days gone by, and should make you smile.


01 October 2013
dddavid's Ghost Cams Hauntingly good Chiffon Pumpkin Pie


Just in time for October it's no bake it's easy, and it's good!
Ingredients:
1 (6 ounce) package instant vanilla pudding
1 cup milk
1 (15 ounce) can pumpkin
6 ounces Cool Whip (large container)
1 1/2 teaspoons pumpkin pie spice
1 pie shell
Directions:
1: In a large bowl, using a mixer, blend together the instant pudding, milk, can of pumpkin and the cool whip.
2: Pour the mixture into a pre-baked pie shell (even graham cracker work well) and sprinkle the top with the pumpkin pie spice.
3: Refrigerate at least 3 hours before serving.
I had more than enough for one pie, so I used the rest in a no cook Pumpkin Pie Ice Cream!
08 September 2013
August was a busy month. Painting on the outside of the house, and re-staining the deck, as well as putting up a section of wrought iron fencing (with gate) in the side yard, and trying to keep the plants watered during a month without rain. It finally rained today! :) In addition to that I also reset the front brick sidewalk...the moles had been busy this year
On the inside I have replaced 2 more of the infrared cameras. Not as easy as it sounds. You have to get rid of the old wiring, and run the new wiring. I also bought another 4 port video server so it would be easier to run the cameras with less electricity...that's a good thing.
Just today I bought a couple of items that are suppose to be haunted, that the owner wanted to get rid of. I'll let you know how that turns out. What the heck, I'm always up for buying things with a past. I love the memories that come along with them. I find it exciting, and as far as I'm concerned...if there are spirits involved, they can just join the crowd. Speaking of which, it is also fast approaching that favorite time of the year. Halloween! Decorating will begin very soon, and I'll post some of those pictures here.
09 August 2013
I just may have finished working on all of the computer problems I had been experiencing for the last few months. The answer appears to have been to replace one computer, and buy another. That wasn't the answer I was looking for, but it seems to have worked.
The final solution came to me today as I was experiencing dropped IP addresses... Replace the digital 2 way cable splitter, because it too was failing. As they say: When it rains...it pours. Hopefully it is all behind me now. I have 2 more webcams to set up, and I really need everything working to do that. Now all I have to do after that is to choose where to put them.
23 July 2013
Well, the month of July started out very good then progressed into computer problems, hard drive failure, and no rain for the gardens... :(
The month had started out very good. The garden areas were getting more sun light after having 6 trees cut down the month before, and were looking more like the English Victorian Gardens like I have wanted them to be. I was getting things done around the house, inside and out. Everything was "all good", and then one of the computers started having problems. Not just "one" of the computers...the one that ran 4 webcams...Eeeeek!
I worked on it for 8 days for most of every day, leaving it only to do the most important of task, and an occasional watering of the gardens when I could. Searching all over the internet as to why Windows would not load any system functions. (Actually except for that it was working very well). Then yesterday I got my answer...when it rebooted I received the message "Status Bad" A failure may be imminent...
By the time I had received that message I had already purchased and received a "new" computer (refurbished), but new to me.. Although I had not intended that one to run the webcams, that is what it is currently doing while I decide to either buy a new hard drive, or just another computer, because the entire reason for getting the other computer was so I could have one dedicated to just running the 4 live webcams. At least I got the Ghost Cams going again. That may be the longest they have been off on a long time.
On the bright side the web cams are back up, I got to work in the yard today, and things are getting back to normal...or paranormal. :)
07 June 2013
dddavids GhostCams website continues to grow as I attempt to clean, straighten, and unify happenings, images, and pages that have been posted over the past 13+ years...it may take a little time. Today I have managed to sort through the "Everyday Life" section, and streamline that into their own separate pages covering the years. It's much better now. Next will be the "History and Happenings" section, which deals with all of the many inhabitants of this house, and the paranormal happenings, and spirits that dwell within.
Speaking of ghostly happenings, I had neglected to mention my purchase of a Spirit Box late last year. It is also known as a Ghost Box, and Franks Ghost Box. In theory the spirits are suppose to be able to communicate through it. I have tried it out a few times, and you can view. vor listen to the results for yourself either by clicking on the "Video" link, or the "EVP" link. For the few times that I have got to use it so far, I am pretty happy with it. I put up only that which I thought would be clear to the average viewer.
To completely change the subject...I have put up photos of the Victorian Garden from this year. Everything has started off very late because of the weird weather, but it's beginning to grow, and you can find the pictures HERE
31 May 2013
As you can see, I have resurrected the "Everyday Life" page...yea!
It may or may not be ghostly, or paranormal related. It could just be telling you what is going on for me, and what I may be currently working on at the house.
Speaking of me, I am doing fine, and dandy, after finally having a new roof put on near the end of last year. I picked out an old type green/black/grey shingle...Looks very good. Then I started out the new year re-painting the living room and dining room ( I really mean stenciling, and doing a mural)...it was time, and you really feel better starting a new project after the Christmas Season since after the holidays are usually a cold depressing time. I was kept too busy to think about that. I put up those pictures on facebook if you would like to see them.
This year the weather started out weird so I am really just now getting to plant, and transplant things. Next will be working on the outside of the house...it's never ending.
When I first moved here planted many trees, and now I am in the process of removing some of the trees because I am now in need of some sunlight to keep things growing. Yes, the trees did that well.
Enough for now. Enjoy your day, and as always you can find me on the facebook page.
*Note: Between the middle of 2010 and May of 2013 I did not blog, but instead went to the facebook page..
*The blog has, as of June 2013 been reinstated. :)
28 June 2010
Well, well, well...1/2 way through the year already, and I haven't had any time to stop by here. I must have been busy.
Today I cut down a tree. I have cut down about 6 or so this year because I have become over shaded, and it was becoming difficult to grow other things. That still leaves me many, many trees...I like the shade, I just needed a little sun area here and there.
I need to re-do my pond that I put in last year...it filled in a little, and I want a different liner in it. That may also be this week.
I also have 3 old doors to strip and stain for upstairs, but I haven't gotten to those, yet.



Follow dddavids GhostCams on...









Previous Years