Previous Lives
2015

2013

2010

2009

2008

2007

2006
2005

2004

2003

2002

2001

2000

dddavid...a blog of everyday life.

Two of the most current videos from the
Everyday YouTube Vlog Channel.




Update: 30 December 2014
This turned out to be a very fast moving, and extremely busy year, and it's ending that way as well. I finished up this last month of the year by adding some gingerbread trim to the kitchen cabinets. I am sure they had it at one time, and someone over the years had decided it had gone out of style. I still have the side pieces to do, but I like it so far.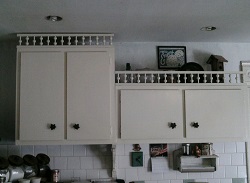 I also re-did much of the website, though it may not be as easy for you to tell. All of the web cameras are now operating differently than they were at the beginning of the year. Now they are clearer, and much more reliable than in the past. It wasn't easy, but I like it much better this way.
This year I also added new sections to the website, such at the mostly Vintage Recipes Pages, and the very popular Countdown to Halloween, and Countdown to Christmas pages. As well as the DIY Pages which I sometimes forget to add projects to... I will have to work on that for the new year. All of these things are designed to keep you engaged, and excited about the site, and hopefully sharing it with your friends. Not that Wesley is not entertaining enough to keep you coming back. Speaking of that crazy little Boston Terrier, we will end out the year of 2014 with a special video of his made just last night.




17 September 2014
Autumn in in the air, and thoughts are turning to Fall and Halloween, and the decorating that goes along with it. I have made a fun Countdown to Halloween Page HERE, and don't forget those Fall Recipes HERE for those cozy fall nights.
12 September 2014
The fall decorating of the house has begun. Not Halloween yet...just Fall things are being put out to ease into the mood. You can see the pictures, and other Fall decorating ideas for your home HERE:

19 August 2014
Thought of the day... To get your life in order, you first must get your house, aka living space in order. Cleaning, de-cluttering, and cleansing by way of candles (my favorite), or sage smudge sticks. Whatever your option may be, but it must start there first. I try to do this as frequently as possible. It seems to work for me most of the time.
Keeping busy is another positive thing you can do for yourself. Weather that be cleaning up your environment of dirt, trash, or unhappiness. There is always something that needs doing. There is a reason for the saying "idle hands are the devil's workshop"

30 April 2014
What a busy month April was... Working in the yard, working in the house, redesigning the website, and beginning the Weird News segment on the website as well as matching videos in the Everyday Vlog on YouTube. Yes, it seems like I have gotten a-lot done. I think the front page of the website still needs work, meaning that I am now quite satisfied with it's look, but all of the other things turned out well. So that's a good thing.
Last year little Wesley had begun having trouble with his back legs. Early arthritis, and the knees popping in and out of socket, and I thought he was going to need surgery to fix it, bit with his vet visit they said that if he lost weight he would be much better, so we will try that first. I didn't think he ate all that much, and just a tiny bit of "people" food every now and then, but he had gained more weight. I guess now we will both diet. It had been just me, which I am currently do ing well with, so not it will be both of us. He will not be happy about it, though...

Update: 16 April 2014
Painting a Victorian Wall Mural in the Bathroom.
I began, and finished a Mural painting project in the upstairs bathroom over the last couple of days. It didn't start out as a mural. It was actually suppose to be a wall of copper tiles above the bathroom sink, but all except the bottom 2 rows kept falling off the wall... Then came the inspiration... A wall Mural, yes I could do that, and so I did.


I think it turned out pretty good, and it's much better than listening to the copper tiles fall and hit the floor in the middle of the night! :)
You can see a video of it HERE.
27 January 2014
This month is just flying by! I have been very busy with both YouTube channels, and just things to take care of in everyday life as well. I have been trying to build an audience for the Everyday Channel for those who enjoy seeing quirky stuff, and continuing to get the paranormal lovers more involved in the Ghost Cam Channel. If you could take a minute to subscribe to one, or both that would be nice, and if you could share them...even better. It actually is a-lot of time consuming work, and for some reason YouTube loves to flag my uploads as "Copyright Violations", even though all of my things are original... Like those posted above.
It usually takes a few days before they finally review it for real, I guess that means that they really watch it, instead of relying of "Buzz Words" to flag it. What ever it is, it can be annoying, and time consuming. I guess as long as everything turns out o.k. in the end it's bearable. Stay tuned!

Your Zen picture for the day....stay positive!


06 January 2014
Let 2014 be the year of sharing positive thoughts, and attitudes on the internet, and in life!
I'm sure that like me, you have found that not only in everyday life, but also in social sites on the internet there are places increasing filled with those who would complain, attack, and otherwise create a poison environment. What I have decided to do this year is keep a better outlook in life, and especially on the social networks in hopes that it will spread. The alternative didn't seem like a viable uplifting way to live ones life. I hope that you will join me in this endeavor, and see what it can do for you, and those whom you have chosen to share your life with.
Will is always be easy...No. Will it be worth it...Definitely! Here's to a wondrously productive 2014!!! Lead the charge!


* Don't forget to read the other life happenings listed by year at the top of the page.
Follow dddavids GhostCams on...