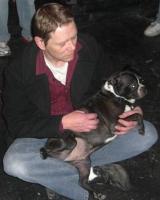 dddavid...a blog of everyday life.

Update: 30 December 2013
We are now coming to an end of what was actually a pretty good year for me, as I hope it was for you as well. So much has happened in the world that is is easy to get caught up in very negative thinking if you let it in, but you must believe there is vastly more good out there than evil. It's just not as good at getting publicity as the less deserving bad behavior. That is what I was thinking when I made this video for me, for you, and for those I hope you will share it with who may just need a positive thought in their day. We can all do better if we keep a positive outlook on life. Have a good one and enjoy the video, and Happy New Year!

11 December 2013
I can't believe that it is the end of the year already. They go by so fast anymore, though in all I think it has been a good year. The house is doing well, the dog and I are doing well, the website is doing well. All in all I liked the year. I could always get more done, but that is what we have next year for. Remember, as I have said before, it's good have a project ready to start after the Christmas Season ends to avoid the winter blahs.
Paranormally speaking the noises, and shadows, and movements continue...maybe even more so this festive time of year. The ghost of Christmas past like to see the house all decorated again, I think, and speaking of an old Victorian House decorated for Christmas I made this first video of the house for this year. It does change from year to year, if you have seen a previous one. The second video is "How to make a Snowman Christmas Tree", and is at least entertaining. I hope you enjoy it, and don't forget to subscribe to the channel to keep updated on the coming videos!



I hope your year is going just as well, and Joyeux NoŽl to you and yours this Festive Holiday Season.

08 November 2013
Busy, busy, busy... It may seem early, but I have begun to string lights outside for the Christmas Season. The last I heard is that the house will again be on a Christmas tour for the Holidays...outside only, and it's coming up fast so work has to begin now, and especially before it gets too cold to do it.
This year I have decided to be as vintage Victorian as I can while keeping it fairly festive. You know that the Victorians wouldn't have had lights outside, but you have to create a balance... People wouldn't be very impressed seeing a big dark house with some greenery.
I have also began to get into the mood with a couple of videos on the every day You Tube channel (subscribe if you haven't). These two videos are filled with vintage christmas scenes form days gone by, and should make you smile.


01 October 2013
dddavid's Ghost Cams Hauntingly good Chiffon Pumpkin Pie


Just in time for October it's no bake it's easy, and it's good!
Ingredients:
1 (6 ounce) package instant vanilla pudding
1 cup milk
1 (15 ounce) can pumpkin
6 ounces Cool Whip (large container)
1 1/2 teaspoons pumpkin pie spice
1 pie shell
Directions:
1: In a large bowl, using a mixer, blend together the instant pudding, milk, can of pumpkin and the cool whip.
2: Pour the mixture into a pre-baked pie shell (even graham cracker work well) and sprinkle the top with the pumpkin pie spice.
3: Refrigerate at least 3 hours before serving.
I had more than enough for one pie, so I used the rest in a no cook Pumpkin Pie Ice Cream!
08 September 2013
August was a busy month. Painting on the outside of the house, and re-staining the deck, as well as putting up a section of wrought iron fencing (with gate) in the side yard, and trying to keep the plants watered during a month without rain. It finally rained today! :) In addition to that I also reset the front brick sidewalk...the moles had been busy this year
On the inside I have replaced 2 more of the infrared cameras. Not as easy as it sounds. You have to get rid of the old wiring, and run the new wiring. I also bought another 4 port video server so it would be easier to run the cameras with less electricity...that's a good thing.
Just today I bought a couple of items that are suppose to be haunted, that the owner wanted to get rid of. I'll let you know how that turns out. What the heck, I'm always up for buying things with a past. I love the memories that come along with them. I find it exciting, and as far as I'm concerned...if there are spirits involved, they can just join the crowd. Speaking of which, it is also fast approaching that favorite time of the year. Halloween! Decorating will begin very soon, and I'll post some of those pictures here.

09 August 2013
I just may have finished working on all of the computer problems I had been experiencing for the last few months. The answer appears to have been to replace one computer, and buy another. That wasn't the answer I was looking for, but it seems to have worked.
The final solution came to me today as I was experiencing dropped IP addresses... Replace the digital 2 way cable splitter, because it too was failing. As they say: When it rains...it pours. Hopefully it is all behind me now. I have 2 more webcams to set up, and I really need everything working to do that. Now all I have to do after that is to choose where to put them.
23 July 2013
Well, the month of July started out very good then progressed into computer problems, hard drive failure, and no rain for the gardens... :(
The month had started out very good. The garden areas were getting more sun light after having 6 trees cut down the month before, and were looking more like the English Victorian Gardens like I have wanted them to be. I was getting things done around the house, inside and out. Everything was "all good", and then one of the computers started having problems. Not just "one" of the computers...the one that ran 4 webcams...Eeeeek!
I worked on it for 8 days for most of every day, leaving it only to do the most important of task, and an occasional watering of the gardens when I could. Searching all over the internet as to why Windows would not load any system functions. (Actually except for that it was working very well). Then yesterday I got my answer...when it rebooted I received the message "Status Bad" A failure may be imminent...
By the time I had received that message I had already purchased and received a "new" computer (refurbished), but new to me.. Although I had not intended that one to run the webcams, that is what it is currently doing while I decide to either buy a new hard drive, or just another computer, because the entire reason for getting the other computer was so I could have one dedicated to just running the 4 live webcams. At least I got the Ghost Cams going again. That may be the longest they have been off on a long time.
On the bright side the web cams are back up, I got to work in the yard today, and things are getting back to normal...or paranormal. :)
07 June 2013
dddavids GhostCams website continues to grow as I attempt to clean, straighten, and unify happenings, images, and pages that have been posted over the past 13+ years...it may take a little time. Today I have managed to sort through the "Everyday Life" section, and streamline that into their own separate pages covering the years. It's much better now. Next will be the "History and Happenings" section, which deals with all of the many inhabitants of this house, and the paranormal happenings, and spirits that dwell within.
Speaking of ghostly happenings, I had neglected to mention my purchase of a Spirit Box late last year. It is also known as a Ghost Box, and Franks Ghost Box. In theory the spirits are suppose to be able to communicate through it. I have tried it out a few times, and you can view. vor listen to the results for yourself either by clicking on the "Video" link, or the "EVP" link. For the few times that I have got to use it so far, I am pretty happy with it. I put up only that which I thought would be clear to the average viewer.
To completely change the subject...I have put up photos of the Victorian Garden from this year. Everything has started off very late because of the weird weather, but it's beginning to grow, and you can find the pictures HERE



31 May 2013
As you can see, I have resurrected the "Everyday Life" page...yea!
It may or may not be ghostly, or paranormal related. It could just be telling you what is going on for me, and what I may be currently working on at the house.
Speaking of me, I am doing fine, and dandy, after finally having a new roof put on near the end of last year. I picked out an old type green/black/grey shingle...Looks very good. Then I started out the new year re-painting the living room and dining room ( I really mean stenciling, and doing a mural)...it was time, and you really feel better starting a new project after the Christmas Season since after the holidays are usually a cold depressing time. I was kept too busy to think about that. I put up those pictures on facebook if you would like to see them.
This year the weather started out weird so I am really just now getting to plant, and transplant things. Next will be working on the outside of the house...it's never ending.
When I first moved here planted many trees, and now I am in the process of removing some of the trees because I am now in need of some sunlight to keep things growing. Yes, the trees did that well.
Enough for now. Enjoy your day, and as always you can find me on the facebook page.

Previous Lives
2015
2014
2010
2009
2008
2007
2006
2005
2004
2003
2002
2001
2000