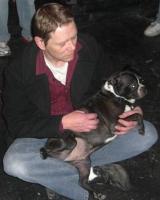 dddavid...a blog of everyday life.

*Note: Between the middle of 2010 and May of 2013 I did not blog, but instead went to the facebook page..
*The blog has, as of June 2013 been reinstated. :)
28 June 2010
Well, well, well...1/2 way through the year already, and I haven't had any time to stop by here. I must have been busy.
Today I cut down a tree. I have cut down about 6 or so this year because I have become over shaded, and it was becoming difficult to grow other things. That still leaves me many, many trees...I like the shade, I just needed a little sun area here and there.
I need to re-do my pond that I put in last year...it filled in a little, and I want a different liner in it. That may also be this week.
I also have 3 old doors to strip and stain for upstairs, but I haven't gotten to those, yet.


Previous Lives
2015
2014
2013
2009
2008
2007
2006
2005
2004
2003
2002
2001
2000