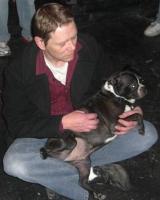 dddavid...a blog of everyday life.

06 December 2009
Christmas Photos!!!
18 November 2009
Almost winter already...another year gone by, they go by so fast. I did manage to get some things done, though. Despite the fact that Wesley likes to leave me endless messes to clean-up. He has a thing about tearing things up, or at least the things that I like.
Top 10 Things I'm Glad I Got Done This Year:
1: The pond...It mostly held water all summer, and the birds love it.
2: Repainting the house, and deck with better paint.
3: Finally fixing the roof over the laundry room...I think. So far so good.
4: Finishing the rest of the wood floors.
5: Making the whole house one home. I've got lots of room!
6: Finding a "new" antique couch for the living room. I still have to get the old one that Wesley destroyed recovered.
7: Putting an island in the kitchen...more storage!
8: Scraped the "popcorn" off my bedroom ceiling, and upstairs hallway. Only one room left in the whole house with texture on the ceiling, now.
9: Finding many "new" old things to put in the house, that are from the period.
10: Uncovering, and repairing the attic window. I've only wanted to do that since I moved here.
O.K. one more: Refinancing!!! It just happened to be the year that I had to do it, and the much lower rate saved me MONEY!, and I paid off the downtown building at the same time. :)

On the play front this year I was in "GUYS AND DOLLS": Benny Southstreet, AND "THE EXORCIST": Father Merin, and currently in rehearsal for "THE NUTCRACKER": Uncle Drosselmeyer, The Toy Maker, and that will take us to the end of the year, as far as plays go.
18 May 2009
So I decided to make a pond...but I didn't want the kind with the plastic liner, or mold. I wanted an all natural one that you wouldn't have to clean. Just a big hole with water. From what I found on the internet all you have to do is dig a hole and fill it with water, and that's what I wanted. Problem is that the water wants to go away a little faster than I was hoping. Now I have to decide if I want to spend a little more time filling it back with water, or just having the essence of pond. Meaning filling the space with plants that have little blue flowers instead. I could live with that.
Wesley is doing fine, except he is going through that faze where he wants to tear up everything. Well, not everything, just the things that I like having around. I'm not sure how he knows the difference.

19 March 2009
Well, let's see...lost of stuff has gone on since December of last year. For one, there is a new puppy in the house. He is a Boston Terrier, now 10 months old, and his name is Wesley (his name was picked out after a poll of the Yahoo ghost group). Rescued from a puppy mill, and then rescued from the rescuer by me on Feb. 5th, 2009. He has caught on to my routine fairly quickly, though sometimes he seems to be solely on mission of search and destroy, and or bite.
My occupants upstairs moved out in November of last year, and I began in late November finishing the restoration of the upstairs. As of Feb. of this year I can now say that the scraping of woodwork, popcorn from the ceiling, staining, painting, sanding, stenciling, and polyurethaning are for the most part done...(4 bedrooms, a hallway, and a bathroom...pictures near the bottom of page) I do have a fake wood floor to take up that was put over a real wood floor, and that will be the next project. That would include sanding, and staining, and more polyurethane. The good part was that I had enough furniture to fill up the 2nd floor. Though I do need to get a full size mattress for one of the bedrooms. I now have a total of 5 of them. My former bedroom downstairs was made into a library (I need more books, too).
On the stage front. We have started rehearsals for "GUYS AND DOLLS" I will be Benny Southstreet...singing and dancing.
Previous Lives
2015
2014
2013
2010
2008
2007
2006
2005
2004
2003
2002
2001
2000