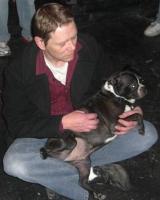 dddavid...a blog of everyday life.

15-12-08
4:30 a.m. on Sunday morning (yesterday) I got up and put up a Christmas tree, it was sad, but it was also sad not having one up. It is a different one than I put up when Maxwell was alive, and in a way that helped. I wasn't doing the same one, but without him. I don't know what he thought about all of the Christmas decorating, but he always seemed to take an interest in what was going on.
My former bedroom is going to be the library/study...I must get more books. At one time long ago it probably was, or it could have been the back parlor. I'm just guessing.
12-12-08
Well, it has been a little over a month since Maxwell passed away, and the house is extremely quiet. I have tried to keep busy with things in the house. Since the renters have moved out of the second floor I have been working up there almost constantly to finish the woodwork, and scrape the "popcorn" off the ceilings. I have 2 rooms just about finished...still have a floor to sand and stain in one room, and it will need a bed in there to look right. The other room is finished, though I have to paint the ceiling. It is now my new bedroom, as of last night. It's a nice room with two-toned stenciled walls.
The Christmas lights are all up outside, and I put lights on the cedar tree under which Maxwell lies. I can't say the same for the inside of the house. As much as I like decorating for Christmas I have not been able to bring myself to do it this year on the inside. The closest I get is opening the door where all of the decorations are, and then I close it...it just seems too sad.


09-11-08
The house is very empty now except for me. Maxwell this morning lost his battle with old age, and went on to a better place. After losing most of his eye sight he was also diagnosed with an enlarged heart last week, and possibly an enlarged liver (x-rays couldn't tell because there was a water build-up in his stomach. He had been put on heart and liver medicine, as well as water pills, but he had just grown too weak to fight anymore. He passed away on a Sunday just like Adam (my last dog) did. I was working the same 8 a.m. to 11 a.m. shift. Adam had passed away in 2001 just after I got home, Maxwell departed while I was away. When I got home he was just where he had been when I left, and looked like he was sleeping, but Maxwell was always a heavy breather (Boston Terriers do that), and I heard no noise. He looked very peaceful so I am hoping that it was an easy departure. I buried him under a cedar tree we had brought from our last home with his favorite toys, and treats, and gave him a little shrine that I can visit. He deserved all of that and more.
Maxwell was a rescue dog, meaning that he was saved by an animal rescue operation. After Adam had passed I had talked to them about being a host for dogs waiting to be adopted. Maxwell had already worn out his welcome at his first host home. They had other Boston terriers, and Maxwell in all the time I had him liked all people, but not any other animal...he considered them prey. Needless to say I hosted him for 8 years, and enjoyed every minute. He will be so sadly missed. He came to me at a time when I really needed him, and made everything better.

23-10-08
The couple who have rented the upstairs of my house for the last four years are moving...better paying jobs elsewhere. I haven't decided what exactly to do with it. If Maxwell had not lost most of his eye sight I would just take over the whole house, but now I don't think he could get use to a new space he knows nothing about...not to mention the stairs he would have to climb to go to bed. So I am up in the air about that for now.
The last weekend to see "DRACULA" has arrived, so if you are close you may want to check it out. It's a must for Halloween!
14-10-08
...and so here we are into fall already. I think it's been a fairly good year so far. I have gotten some more work done in the basement...as in the floor, and tuck pointing the brick walls, and re-routed the gutters outside. I've repainted parts of the house and deck that were chipping. I didn't get it all, but something is better than nothing, and re-did the roof over the old porch that had been enclosed at some point in the past.
This weekend begins the first weekend performance of "Dracula" just in time for Halloween is near. I am playing Van Helsing. It is at this point probably where it should be, but I must look over those lines many times before Friday gets here. There are still some I cannot rattle off as quickly as I need to, but I am a-lot less worried than I was before last nights rehearsal. I am always afraid that I will not remember something, but it seemed to come to me when it needed to that last rehearsal. Some parts just need to come sooner... It should be good and dramatic by Friday.
29-05-08
This is the last weekend performance of JESUS CHRIST SUPERSTAR and I think that has probably been up there in one of the best shows that I have done...though I always try to do my absolute best. It's probably because it's dramatic, and I get to sing at the same time. I don't know. It is very dramatic, though, I like that, and it's been going well...I like that too.
14-05-08
Just in case there are some keeping up with stuff...I am currently in rehearsals for "JESUS CHRIST SUPERSTAR" in the roll of Pilate. It begins on May 23. I have begun placing rehearsal videos, and probably various other things on youtube. Just keep in mind that these are rehearsals, and not yet at their finest... You can find them HERE As well as a few from the last one...Willy Wonka.

21-01-08
It's a new year! Yea!
...and with a new year comes new stuff, like a new show to do. This one being "WILLY WONKA", and rehearsals have already started. I am Grandpa Joe (he goes to the chocolate factory with Charlie). I get to sing, too. I am sure it will be wondrous. I bought a new digital camcorder/camera before Christmas so now I'll get to put rehearsal photos and/or videos up. That will be nice...having pictures of a show.
I haven't been doing a-lot around the house (not that I shouldn't) the basement is a little cold for working in right now. I did re-stain the piano in the living room, and after that I noticed that all the legs on the furniture needed it also, so I did it all in there. Looks much better. It hadn't occurred to me but all of the furniture being old did have a-lot of scratches on the legs.
I can't wait for spring when the new tulips that I planted last fall pop up. Not to mention it being warmer...

Previous Lives
2015
2014
2013
2010
2009
2007
2006
2005
2004
2003
2002
2001
2000