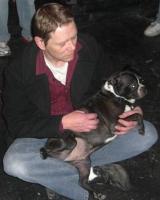 dddavid...a blog of everyday life.

12-17-02
Well, "THE CRUCIBLE" has, of course, come and gone, and it was good. If I do say so myself. Then went on to be in the Community Christmas Show, and now I'm free until the Spring (as far as I know). So if you're looking for me...now is a good time :)
I had a bad computer crash in October, that got fixed in a week. Then I had a Computer disaster, and gave up and bought a new one...much more powerful, and faster, yea!!! I don't have trouble running multiple things any more. It's a good thing... I still have to load some former programs into it, like the messengers (there's always e-mail), but I'm almost back to normal. Here's hoping your Christmas dreams come true...(warn me if they involve me).
10-18-02
It's Show time...
10-16-02
O.K., so the show (The Crucible) starts in 3 days... In some ways I feel more prepared than I have been for past shows, in some ways not, but in either case it goes live this Friday, and by then it will be all ready. At this point I am not wishing that I had that one extra day to get ready for it like I have in the past, so that's a good indication of how I think it's going. I can tell though, it's going to be one of those shows that I wish we could have done more performances of though...
8-27-02
I said that I would let you know "a.s.a.p." about being cast in "THE CRUCIBLE", and apparently this is as close as I can get...2 days late. Yes I did get into the cast, and I can't tell you how happy that makes me (just as it always does). It's a very affirming feeling to know that other people believe in you. I got the part of John Proctor(that amazed me), and am very eager to get started, needless to say, and with that thought...all is well in my world.

8-14-02
Just had the first audition for "THE CRUCIBLE" last night, and now have a call back for next Tuesday. I think that they said that we would know if we were cast by the following Sunday (8-25-02). So I'll let you know how that goes a.s.a.p.
I have been redoing the house. Getting rid of some of the clutter...you know, that fung shui thing, even added a small fountain by the front door. It's never a bad idea to give the house a good cleaning, now and then, anyway. I don't know if you have found my karma link but it wouldn't hurt to read it, and it doesn't take a whole lot of time... Who knows, it could make your life better. It seems to work for me.
6-3-02
My oh my, I hope you didn't hold your breath waiting for the next update. 'Cause you be dead.
The show started last Friday, and continues until next Saturday (6-8-02). I think that so far last Saturday was the best. Having no air conditioning on opening night didn't really help with those dances..., and Sat. I had gum :)
I have a meeting with the owners of the store that I work for tomorrow. I think that there will be big changes in the next month, or so, but I don't like to talk about things before they happen, so that news will have to wait for a while.
Everything in the garden looks good. The rain has really helped out. With the show, and work I don't think I could have kept up with the watering it would have needed. I added a-lot of new things, and they are still alive, so I'm happy. As always if you are in the area, and some of you are, support the theater - and go see a good show...
And I managed to get a new writing into the "writings II page. If you have the time...read it, and tell me what you think.


4-22-02
Haven't been here for awhile again, huh. Well, I'm once again in a play. It's FOOTLOOSE, and I have the part of coach Dunbar. We started rehearsals last week, and yesterday we had our first singing rehearsal...the next is tomorrow night. Parts of the site here have been updated, like "tales from the garden", for one, and the outdoor cams are usually on if nothing else.
2-08=02
Well things change, don't they...except for that part where I'm single. I've been playing on the computer a-lot. That's about all I have been doing, it's mostly to cold to go outside still, and I didn't audition for any show...so there's just the computer. Enough for now.......-d
1-19-02
O.K. we've got a new look for the home page (wee haa!). I'm becoming more of the mind that simple is better, or at least easier to get through... As always your comments are welcome (or even encouraged).
1-17-02
Hey there, new year is going well so far... I have an audition for a play the first part of next week. It's M*A*S*H*, and I'm sure that everyone knows what that is about. Not much else exciting going on besides that.
1-11-02
All is new again, and every thing is fine...and you?

Previous Lives
2015
2014
2013
2010
2009
2008
2007
2006
2005
2004
2003
2001
2000